January 16, 2008
NitroMed to axe BiDil reps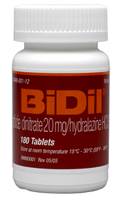 NitroMed announced it plans to lay off a majority of its newly hired BiDil sales force by roughly 70 to 90 employees.
 
NitroMed doubled its sales force from 30 to 60 specialist reps during the second half of 2007 to boost BiDil prescriptions. BiDil is indicated for the treatment of heart failure in self-identified black patients.
"However, with only modest improvement in sales, management concluded that it cannot sustain BiDil marketing efforts alone," wrote Friedman, Billings, Ramsey & Co. analyst Robert Uhl in a recent note to investors.
Nitromed now expects to file the NDA for BiDil XR, the once-daily extended release formulation, with the FDA in 2010.
 
Nitromed has also hired an investment bank to explore strategic options, which could lead to sale of the company, Uhl wrote.
Scroll down to see the next article