September 02, 2014
Novartis may have game-changing drug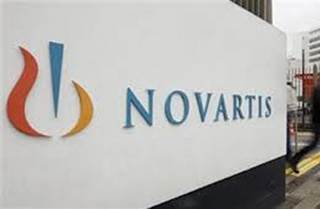 Novartis is poised to change the way heart-failure patients are treated, if weekend reaction to data surrounding its experimental drug LCZ696 is any indication. The company released data at the European Society of Cardiology Congress that Jefferies analyst Jeffery Holford described in a Monday research note as "overwhelming and unambiguous efficacy." Leerink's Seamus Fernandez wrote in a research note yesterday that a key opinion leader called the drug a game-changer.
The twice-daily oral blends neprilysin inhibitor sacubitril and the angiotensin II receptor blocker valsartan. The combination drug reduced cardiovascular mortality among patients with reduced ejection fraction by 20%, and reduced hospitalization for heart failure by 21%, compared to ACE-inhibitor enalapril (Merck's Vasotec), the current standard of care. Ejection fraction is a measurement of the heart's ability to pump. The Cleveland Clinic cites a normal EF at 55% to 70%, meaning the heart pushes out that percentage of blood with each heartbeat. A reduced ejection fraction—which puts a patient in the heart failure category—is less than 40%.
Researcher Scott Solomon, who also doubles as director of noninvasive cardiology at Brigham and Women's Hospital and is a professor of medicine at Harvard Medical School told MM&M in a phone interview that the team was delighted by "the results. They've exceeded all of our expectations."
In addition to reducing the death rate, the drug also addresses factors payers, patients and physicians have put higher on their list of priorities, such as cost (it reduces hospitalizations). It may also dodge a patient adherence issue because, as Solomon notes, Novartis's candidate is a replacement medication, as opposed to an additional pill. This is an important consideration because heart-failure patients typically take a variety of medications to handle different aspects of their condition.
Heart failure can occur at any age, which means matters like condition-related sick days and lost productivity may also be considered in cost-benefit analysis. LCZ696 also has a tolerability profile that beat enalapril, with regard to measurements like potassium levels and cough, and Solomon says patients also felt better taking the experimental drug than they did on the current standard-of-care medication.
Physicians are also enthusiastic about the experimental treatment. Leerink's Fernandez wrote that conference reaction to the Novartis data "was among the most bullish we've heard in years," and that key opinion leaders "were actively suggesting that colleagues switch patients from ACE/ARBs to LCZ696 upon availability and reimbursement." ACE refers to angiotensin-converting enzyme inhibitors, like enalapril. ARB refers to angiotensin II receptor blockers.
Although Novartis has not priced the drug, Fernandez wrote that his group estimates the drug could cost around $3,000 per patient per year, which brings Leerink's estimated 2026 sales to $6.4 billion, from his firm's initial $3.2 billion projection. Jefferies was similarly upbeat, estimating sales could hover around $5 billion, but Bernstein's Tim Anderson was more cautious, and estimated in a weekend note that the drug could bring in around $2.4 billion by 2020.
Novartis expects to file the drug with the FDA by the end of this year, and has already sketched out future plans which include launching a trial for heart-failure patients who have a preserved ejection fraction, but could possibly still benefit from the drug. Assuming approval for reduced ejection fraction, Novartis will have to tangle with a long-standing problem, which is that the number of diagnosed heart-failure patients is smaller than the number of patients who actually have heart failure.
Novartis tried to assess heart-failure awareness a few months ago and found that that among the 11,000 Europeans polled, only 8% could identify heart failure symptoms and about 25% would either seek treatment within a few days of experiencing symptoms or not bother with a medical check at all.
Awareness is critical. The Centers for Disease Control and Prevention estimates that around 50% of heart-failure patients die within five years of diagnosis. "The more advanced stage of heart failure, [the] worse your prognosis," Solomon said, and noted that this late-stage prognosis is "worse than it is with most cancers, and people don't really know that."
Scroll down to see the next article