December 13, 2007
Novartis to implement additional job cuts: Vasella to WSJ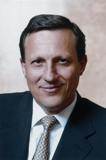 Novartis is planning to cut around 2,500 jobs globally, or 2.5% of its workforce, as part of a plan to cut costs and boost growth, Novartis CEO Daniel Vasella told The Wall Street Journal Europe in an interview this week.
The latest job cuts come on top of the 1,260 positions Novartis is eliminating in its US pharmaceutical division after a year of disappointing earnings and product setbacks.
 
"We have taken the opportunity given the short-term down-cycle in our pharmaceuticals business to initiate this project," Vasella told The Journal. "This will simplify our organization and redesign the way we operate."
The restructuring should be implemented during 2008 and 2009 and is aimed at creating annual pretax cost savings of about $1.6 billion in 2010, Novartis said.
Staff cuts should be achieved through staff fluctuation, vacancy management and social programs, The Journal reported.
Novartis also said it will streamline its divisions, improve its sales force organization and start to expand its presence in emerging markets such as Northern and Sub-Saharan Africa, Central Asia and parts of Southeast Asia. Novartis experienced tough losses on a number of key products.
Zelnorm sales fell 80% after the company was forced to pull the irritable bowel treatment from the market in March due to safety concerns. And generic competition caught up Lamisil, Lotrel and Famivir. A top pipeline prospect, type 2 diabetes drug Galvus, was delayed at the FDA.
Scroll down to see the next article