October 21, 2010
Novo launches new consumer ads for Victoza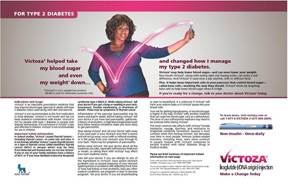 Novo Nordisk launched a consumer campaign for Victoza, emphasizing the product's ability to bring down blood sugar levels and body weight in patients with type 2 diabetes. The campaign features print ads and a refurbished website, and marks the first consumer push for the brand since its approval in January.
Heather Millage, AVP, Victoza marketing, said in an email that FDA's hold-up on Bydureon, a Lilly/Amylin/Alkermes GLP-1 product and potential Victoza rival, does not change the aim of the Victoza campaign. "We do not believe there is any reason to adjust the strategy based on [Tuesday's] events," she said, referring to Bydureon's Complete Response Letter. For now, Victoza remains the "first and only once-daily GLP-1 analog," per Millage.
Print ads for the Victoza campaign are running in diabetes-specific and general awareness publications nationally. The objective of the campaign, which also includes patient brochures, starter kits and other materials, is to "inform people with type 2 diabetes about the availability and benefits of Victoza, and to encourage a dialogue between people with type 2 diabetes and their physicians," said Millage. Print ads were designed by ghg (grey healthcare group) and the website was built by Digitas Health.
In addition to information about Victoza and how to use it, the brand.com site provides access to the VictozaCare program, a key part of the campaign, according to Millage. VictozaCare provides Victoza users with "access to personalized communications and toll-free access" to specialists who are "trained to respond to patient questions regarding Victoza and the Victoza Pen," said Millage. The program also offers menu planning and recipes, plus tips on exercise and sticking to a routine.
Novo also launched a professional site for Victoza, located at VictozaPro.com, which offers patient starter kits, an eDetail video starring Dr. Steven Edelman, and a series of interactive webcasts on topics like "The Value of Weight Loss in Achieving Glycemic Control" and "GLP-1 and its Role in the Diabetes Continuum," among other resources.
Approved by FDA in January of this year, Victoza (liraglutide) now accounts for roughly two-thirds of all new prescriptions in the GLP-1 class, according to Millage. Lilly and Amylin's Byetta, the GLP-1 category leader in terms of sales, has lost ground to Victoza since the latter's approval, with year-over-year declines in the neighborhood of 25%, according to an investor's note from Bernstein analyst Tim Anderson. Byetta is a twice-daily injectable, compared with Victoza, which is used once daily. "Bydureon was supposed to be Lilly and Amylin's defense [against Victoza]," wrote Anderson, adding that FDA's unexpected Complete Response Letter on Bydureon pushes that product's likely approval date to mid-2012. Novo Nordisk will report its financial results for the first nine months of 2010 on October 27.
Scroll down to see the next article