May 07, 2012
Nurses get their own app with Lippincott launch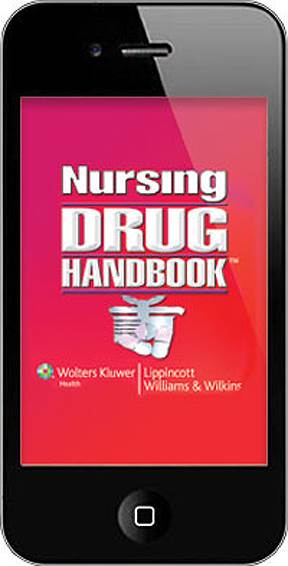 Nurses will soon be able to tap into the
Nursing Drug Handbook
with an app, a first for the 32-year-old publication. Published by imprint Lippincott Williams & Wilkins, a subsidiary of Wolters Kluwer Health, the mobile version of the
Nursing 2013 Drug Handbook
includes almost 900 drug monographs, more than 3,000 generic and brand drug names, pill images and a dosing calculator (the app's iTunes launch, originally slated for Monday, has been pushed back but should happen this month).
A nurses-only medical app might seem unnecessary, with the world awash in medical apps that nurses can access as easily as doctors, but the nursing community says it's not enough just to make information available -- it has to be scaled to be valuable, because nurses search for medical information differently than physicians, and a nursing app designed to field queries in line with the professional scope and informational needs of nurses would be a big help.
Betty Jordan, an associate director of the Global mHealth Initiative at John's Hopkins, says that constant access to information is critical for clinical nurses because "In a clinical nurse's daily life, efficiency's very important." GmI health is a project that evaluates medical apps to help identify the most effective apps or elements of apps for healthcare providers and consumers.
Jordan points out that mobile apps offer more than speed. She says they allow nurses to stay with patients because they have the information with them, and don't need to leave a bedside to locate a desktop computer and look things up online.
She also said that for all the modernity of fingertip medical access, the mobile angle isn't going to transform the profession in the sense of pushing nurses beyond their scope and into another professional's territory -- instead, mobile information will be grafted onto the current information hierarchy.

"It's no different than 10 years ago when we did clinical pathways and we gave nurses or the healthcare teams algorithms to follow" said Jordan.
The demand for mobile content, which includes information that is scaled for tablet and smartphone users, is more than just the typical "cutting edge" talk. Lippincott said 85% of the nurses in the survey want to have the latest drug data in their pocket.
Pharma's mobile attempts have been glacial, when compared to lifestyle industries like hotels and fashion, a pace Google's Mary Ann Belliveau acknowledges is partly due to regulatory concerns. But Belliveau, Google's health industry director, says this doesn't mean medical professionals aren't looking for mobile content. "The doctors in particular tend to skew more tech savvy . . . they want information on the go," and are making treatment decisions using mobile and tablet queries, she told
MM&M
.
Belliveau said the drug industry needs to understand that going mobile doesn't just mean making the desktop experience legible on a smaller screen. Tablet and phone surfers, noted Belliveau, use different search terms, and use the information differently.
She used the patient experience as an example of doctors can expect patients to be looking at, and at how marketers should perceive the mobile consumer.
"We know that people are doing research along the entire patient pathway. People are doing queries about drug information side effects before going to the pharmacy before filling scripts because they want to know exactly what they're getting."
Within that context, Belliveau said once the industry goes all in, it should to take the differences between desktop and mobile use seriously, taking distinct mobile and desktop approaches, as consumer-facing industries have.
This requires understanding the degree to which mobile information can be integrated. "They have information with them everywhere they go," she said, which can make information an integral part of daily living as opposed to the Web, which keeps information trapped on a desktop.
Scroll down to see the next article