April 17, 2014
Omnio app moves to smartphones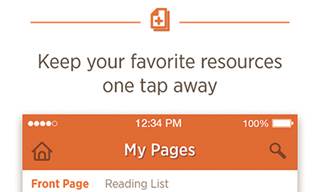 One hundred thousand downloads after its December 2012 debut, Physicians Interactive is introducing the third wave of its Omnio app. The upgrade will make the tablet-only tool available for iPhones and Android phones.
Navin Jain, director of product management and HCP marketing, told MM&M the release will complete the migration of Skyscape users to the Omnio medical app, which will expand the number of Omnio downloads to an even larger user base. Skyscape predated Omnio, and the goal has been to migrate Skyscape users to the app since launch.
It is also a response to demand. "That was the number one-request, and it has continued to grow all of last year, so we knew we wanted to get this out," said Jain.
A key difference between the tablet and phone versions is the goal that phone users should be able to locate and access information in 10 seconds or less. This means a simplified navigation that turns the tablet's side menu into a vertical table of contents with subsections, for a quick pan-and-scan.
Gautam Gulati, PI's chief medical innovation officer, noted that the phone version contains the same information as the tablet, despite the streamlined look. He said that although information was not deleted, it was rethought in terms of handheld access. In the case of drug mongraphs, for example, Gulati said they made drug monographs phone-friendly by reordering some of the content "to make sure that the content they are accessing more frequently is at the top of the list."
The phone version also introduces formulary tiers, pricing and comparable medicines in drug monographs. GoodRx provides the price information, but the rest is from Physicians Interactive's content team.
Gulati says word-of-mouth, which on the web means sharing a site and having a colleague opt-in, remains a strong marketing force for the tablet app, but neither executive was able to provide conversion rates at the time of our talk.
Scroll down to see the next article