June 03, 2009
Pfizer aims to differentiate Toviaz with patient support program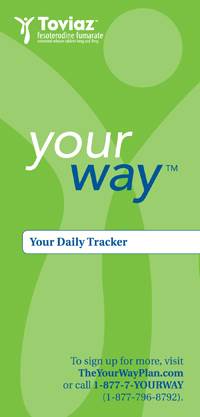 Pfizer is launching Detrol follow-on Toviaz with a 12-week patient support program featuring a progress tracker, personalized emails and tips on bladder training techniques.
Patients starting on sample packs or prescriptions for the overactive bladder drug can subscribe to YourWay, a free program "developed in collaboration with experts in adherence, behavioral change and patient education and communication," the company said.
"Patients often need additional support beyond effective medication, and physicians have limited time to provide comprehensive care," said Sally Beatty of Pfizer communications. "This dynamic is critical because OAB is a chronic medical condition that affects about one in six Americans, yet remains under-treated."
It's similar to support programs Pfizer offers on other brands, such as its GetQuit plan for Chantix or the MyHeartWise program for Lipitor.
Patients enrolling can choose to access the program through the website,
ToviazYourWay.com
, personalized weekly emails, snail mail or automated phone calls. YourWay offers tips on diet choices, bladder training techniques to help patients wait longer between bathroom breaks, information on how the drug works, and a daily progress tracker.
"Studies have shown that treatment success may be higher when behavioral therapy is used along with taking a prescription medication," said Beatty, "yet fewer than half of OAB patients receive behavioral intervention, even from their healthcare provider."
In addition to the program, Pfizer hopes once-daily Toviaz's flexible dosing will set it apart from predecessor Detrol LA. The new drug comes in 4 mg and 8 mg doses.
Consumer ads by McCann HumanCare will launch later in the year. Digitas is handling interactive advertising for the brand, while LyonHeart is tasked with the professional marketing assignment.
Scroll down to see the next article