April 07, 2014
Pfizer palbociclib news divides investors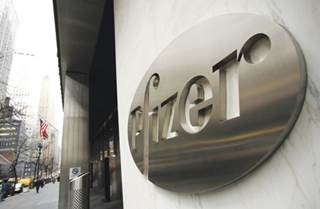 Phase-II data for Pfizer's breast cancer drug palbociclib has divided investors between those who feel the results highlight a drug with massive potential and those who think the results highlight a company that "overpromised and underdelivered," according to an anonymous investor comment in a weekend poll by ISI Group analyst Mark Schoenebaum.
The 165-person study showed patients taking a combination of palbociclib and letrazole showed a 10-month gain in progression-free survival (PFS) compared to post-menopausal women with estrogen receptor positive human epidermal growth factor receptor 2 negative locally advanced or metastatic breast cancer who received only letrazole. In terms of totals, this means palbociclib patients had a median of 20.2 months of PFS, compared to 10.2 months among letrazole-only patients.
This 10-month gain is a drop from previous reports which put PFS for palbociclib patients at 18 months, instead of 10, but ISI's Schoenebaum noted in a Monday webcast that the PFS benefit is "the biggest we've ever seen in this population."
There may be concern that this data is a false positive, the analyst said, referring to an AstraZeneca PARP inhibitor whose early robust PFS results did not hold up later. Schoenebaum said this concern will be part of FDA scrutiny and could have an impact on the materials (i.e., data) Pfizer feels it needs before filing for regulatory review.
Analysis by Leerink's Seamus Fernandez follows the same track: Fernandez wrote in a Monday research note that although Pfizer may be able to use Phase-II data to file the drug for FDA review, the regulator may not approve it "without positive interim PFS data confirming the Ph-II results."
Schoenebaum noted Monday that while Pfizer discussed side effects including neutropenia, leucopenia, fatigue and anemia, it did not talk about a QT signal, which indicates possible heart risk. He noted, however, that the company embedded a QT study in its Phase-III trials and that earlier information indicates that palbociclib does have a QT signal. The analyst said he expects this data will require a black-box warning if the drug is approved.
Pfizer's Sunday data release did include a first look at overall survival (OS), and readouts about this secondary endpoint showed a median of 37.5 months of OS among palbociclib patients, compared to a median of 33.3 months among letrazole-only patients. ISI's Schoenebaum said that although this OS number does not hit the mark that would allow the company to call these results "statistically significant," the test group was small.
Jefferies analyst Jeffrey Holford wrote in his Monday analysis that investors who find the OS information disappointing because the data failed to meet the FDA's criterion for statistical significance were being unrealistic, noting that this is not required for FDA approval.
Schoenebaum wrote that he sees the FDA as wanting more information to make sure that PFS data is real, and that the FDA is also going to want OS data, partly as a gauge to ensure the drug is not harmful.
Palbociclib's corporate significance goes beyond the potential first-line patient population—the drug is considered to be a cornerstone treatment for an independent Pfizer biotech, should the company decide to divide its businesses after 2017.
Although Schoenebaum projects around $7 billion for the drug's peak sales potential (down from $9 billion when the PFS data indicated 18 months instead of 10), much of the Street predicts competition from Novartis and Lilly could drive that figure down to around $3 billion to $4 billion.
Scroll down to see the next article