February 03, 2014
Pfizer releases Ph. II palbociclib data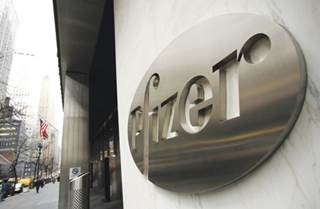 Pfizer's Phase II palbociclib data release unleashed a bit of analyst chatter Monday, but did not trigger a major reframing of expectations. The company said those patients in the randomized PALOMA-1 trial taking the CDK4/6 inhibitor, combined with letrozole, showed a "statistically significant and clinically meaningful improvement in progression-free survival" when compared to letrozole-only.
The patient population: post-menopausal women with estrogen-receptor positive human epidermal growth factor receptor 2 negative, locally advanced or newly diagnosed metastatic breast cancer. In other words, the cohort comprised those with ER+ and HER2-advanced breast cancer.
Pfizer oncology SVP Mace Rothenberg said in a statement that the palbociclib-letrozole combination could transform treatment for a population that represents about 60% of the advanced breast cancer population.
What this means in terms of an FDA filing is unclear, though the drugmaker said it is reviewing next steps with the FDA. ISI Group analyst Mark Schoenebaum and Leerink's Seamus Fernandez both noted Monday that Pfizer's news omits overall survival information, a metric which both analysts consider critical to how oncologists will view the drug.
"KOLs agree that if an OS benefit is shown in the 120-patient study, palbociclib could receive conditional FDA approval," Fernandez wrote. Leerink projects the drug could generate $2.9 billion in sales in 2020. Pfizer said it plans to release overall survival data at April's American Association for Cancer Research meeting.
The Pfizer oncology drug is of major import for a few reasons, one being that it is considered the cornerstone product of an innovative business Pfizer may spin off in the next three years. It is also a benchmark of sorts, in that although Pfizer may have a lead in development time, efforts from Eli Lilly and Novartis are sharing some of the buzz surrounding CDK4/6 inhibitors.
Eli Lilly's research lab president Jan Lundberg noted during his company's January 30 conference call that one differentiating factor between Lilly's CDK4/6 and Pfizer's is that Lilly's may be able to offer a "potential efficacy benefit," because it is pegged to continuous dosing, whereas Pfizer's treatment may require intermittent dosing. Lilly is still exploring what tumors will go into Phase III testing, whereas Novartis already has its CDK4/6 in Phase III tests.
Pfizer CEO Ian Read noted, as did Lilly's executive team, that it is still too early to make definitive claims about whose product is better, because comparative data is not public for an accurate assessment.
Scroll down to see the next article