November 25, 2009
Pfizer stop-smoking pill latest advertiser on video network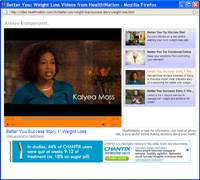 Chantix became the latest pharmaceutical advertised on the HealthiNation health-video network, with the brand's banner ad running beneath clips on quitting smoking and losing weight.

The ad for Pfizer's smoking-cessation drug appears in a pop-out player launched when viewers opt to watch Better You, an original series of health-related episodes HealthiNation launched on its website last week.

HealthiNation CEO Raj Amin told MM&M that Better You gives viewers "a great place to start making healthier choices."

The pharmaceutical ad can also be seen on other websites throughout the HealthiNation network, including USNews.com. Pfizer sold $846 million worth of Chantix (varenicline) in 2008, and analysts expect sales to come in lower this year.

As HealthiNation grows its distribution base both online and on television, several pharmaceutical-related advertisers have signed on. A banner ad and two-minute, conversational-style commercial for NuvaRing, a vaginal contraceptive device, appear during a series of online women's health-oriented programs called Girl Talk.

Bristol-Myers Squibb and Sanofi-Aventis run a promotion for anticoagulant Plavix, aired against heart disease-related programming featured on HealthiNation's cable television network, which includes nine cable operators. Cable customers have access to HealthiNation On Demand episodes through content-sharing deals.

Separately, HealthiNation said it recently signed two other content deals, one with AT&T to make health videos available to AT&T U-Verse TV subscribers for free, and the other with online healthcare ratings site HealthGrades, offering videos covering specific health conditions as part of that site's user experience.

"Advertisers can work with HealthiNation to deliver their message to a qualified audience across our partner network online and on television, increasing brand relevance and ultimately being a part of the consumer dialogue around important health issues," said Amin.

Scroll down to see the next article