August 14, 2007
Pfizer unveils new consumer Web site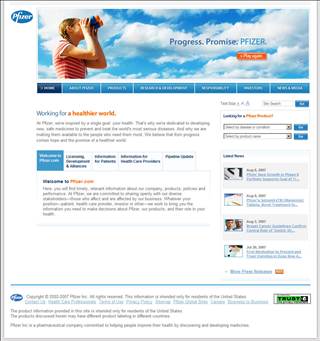 Pfizer has launched a refreshed consumer Web site at www.pfizer.com featuring a cleaner design and
new features.
"I think the site is warmer and more emotional in tone than the previous one, and it's reflective of what we've heard from our survey (of users)," Pfizer spokesman Andy McCormack told MM&M.
For Pfizer.com's first Web site makeover in nearly three years, the company worked with Grey unit G2 Direct and Digital to incorporate a product search on every single page.
"We've made it easier for our users to access our updated product information," Pfizer spokeswoman Kate Bird added. "We've also incorporated a technology called Ajax, which is a combination of JavaScript and XML. That gives us the opportunity to highlight and promote certain events and programs without taking the user several clicks into the site."
Other new Pfizer.com features include automated Securities and Exchange Commission filings and a more robust investor dashboard for Pfizer's investor population.
Also, a new R&D section features information of Pfizer's product pipeline as well as post-marketing commitments that are updated on a weekly basis.
Pfizer.com averages about 4 million visitors per year. That audience is comprised of both consumers and health care professionals, according to Bird.
Scroll down to see the next article