January 28, 2014
Pfizer's Q4 fails to wow, but palbo' news may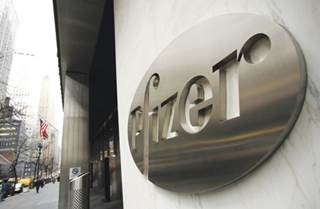 Pfizer surprised analysts Tuesday when it rolled out fourth-quarter and year-end sales numbers, but, as with Q3, investors were more focused on what's next than with what just breezed past.
The key topics were oncology—which saw sales rise 26% for the quarter and the year compared to those same periods in 2013—and the future of its established products division, which some refer to as the value business, but which Pfizer's group president of that very division, John Young, told investors is "not a commodity generics business." Young noted that less than 10% of its sales traffic is derived from "what you usually think of as generic business."
Experimental breast cancer drug palbociclib was the focus of Tuesday's oncology discussion. Vaccines, Oncology and Consumer Healthcare President Albert Bourla said the company could consider submitting Phase-II data for an FDA review.
In a note to investors today, ISI Group analyst Mark Schoenebaum wrote that this is new-ish, in that Pfizer "spent much of 2013 backing away from a Ph2 filing," but the analyst is not sure this is the pivot it appears to be and speculated Pfizer may have had this in mind all along.
Bourla added that expanding palbociclib's indication beyond breast cancer "is a top priority for us given the potential of this franchise" and said Pfizer is testing the drug in melanoma, pairing it with GlaxoSmithKline's MEK inhibitor Mekinist (trametinib), and is exploring uses in non-small cell lung cancer, squamous non-small cell lung cancer, and head and neck cancer.
For those anticipating a Pfizer break-up, palbociclib is a clincher for a possible free-standing innovative division, which is one reason the experimental drug has a high level of name recognition. Another is that success would plunge the company into a category in which some analysts give higher odds to the competition.
The company shied away from making direct comparisons with palbociclib competitors from Novartis and Eli Lilly, saying details on these nascent drugs was slim.
Pfizer's established products strategy was somewhat vague, largely due to financial requirements that come with each possibility. The company will officially begin reporting financials for three distinct divisions as of this year. This effort will hint at the viability of each division and will also help the company meet legal requirements that demand three years of financial data before a spin-off. This upfront data need does not preclude a sale, but CFO Frank D'Amelio explained that not all sales are equal, and that some may in fact require digging up three years of audited financial data.
As for what's inside, Young said the established products division consists of about four types of businesses: peri-LOE drugs, like Lyrica, which are close to being without their patents; legacy brands that are mature in developed markets; emerging markets; and growth opportunities, such as biosimilars and partnerships.
The company's efforts in the cholesterol-controlling realm got scant attention, but Geno Germano, who heads up Pfizer's global innovative pharma business, said the company does not plan on seeking a collaborator for its PSCK9 effort.
Meanwhile, the company's fourth-quarter sales fell 2% to $13.6 billion, from $13.89 billion for the same period last year, taking particular hits in primary care, which was down 10%, and specialty care, which dipped 7% compared to the same period last year.
Year-end revenues were $13.3 billion, down 15% from $15.5 billion in 2012. Primary care sales fell 15% during the year, specialty care 6% and established products 8%.
Pfizer said it expects to pull in between $49.2 and $51.2 billion in 2014 sales, and to spend between $6.4 billion and $6.9 billion on Phase-III research and development, reversing last year's 6% decline in R&D investment.
This year's financial expectations assume the company will win a patent case on pain drug Celebrex for a full year of protected sales. It also includes an expected $3-billion loss in collaboration income, such as that from its alliance on anti-TNF drug Enbrel. The partnership, which had been with Amgen, has ended in the US.
Jeffries analyst Jeffery Holford called the fourth-quarter results "better than expected revenues," in his pre-earnings call research note. Leerink analyst Seamus Fernandez agreed, and described the quarterly numbers as, "better than expected on established product sales, disappointing for new product launches," in his early morning earnings preview.
Scroll down to see the next article