November 07, 2012
Pfizer's RA pill Xeljanz gets nod, could erode biologic sales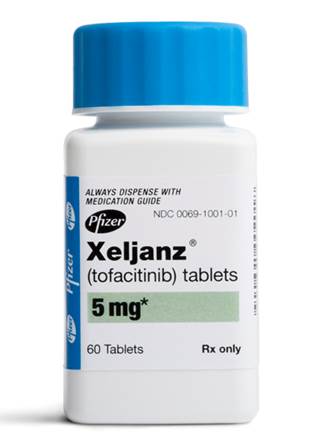 Pfizer won approval for pill Xeljanz (tofacitinib), a new approach to treating rheumatoid arthritis. The firm hopes the drug can carve out a niche by pushing back physicians' use of biologics and winning over the untreated.
Xeljanz, given the nod by FDA two weeks prior to its November 21 PDUFA date, is the first oral treatment to arrive in a market dominated by injectable and infusion drugs. The 5-mg pill was approved as a second-line medicine for RA, for use in patients who fail methotrexate. That means treatment with a biologic is not required before taking it.
This is a better-than-expected label that could help the twice-a-day pill to compete against the nine well-entrenched RA biologics, and to meet analysts' blockbuster forecasts.
"We expect physicians to ultimately use the drug in a wide group of patients, but it will initially likely be used in patients who don't respond adequately to biologics," a group comprising between 20%-40% of patients on biologics, wrote Credit-Suisse analyst Catherine Arnold in an investor note yesterday.
Arnold models $2.6 billion in peak sales by 2020. "We believe the drug has the potential to 'steal' a modest share of the ~$23 Bn worldwide market, and at the same time help trigger market expansion," she added.
Xeljanz could prove disruptive to Abbott's Humira, Amgen/Pfizer's Enbrel, and to UCB's Cimzia, Arnold wrote, while J&J/Merck's Remicade and Simponi and Bristol-Myer Squibb's Orencia will feel less of a threat.
Market expansion could come from new patient starts -- those eligible for a biologic but who remain untreated due to injection fears. This segment comprises about 30% of RA patients, says Credit-Suisse, creating an opening for the oral treatment to gain traction.
However, its commercial potential may not be fully realized until safety and efficacy is proven against that of current biologics, according to analyst firm GlobalData.
"While this is an exciting time for RA patients, particularly those who do not enjoy needle-based therapy, Xeljanz may have slow uptake due to its safety profile," said Dina Rufo, therapy area analyst for GlobalData, in a statement released today. "As an oral therapy, we believe -- as do physician experts we have interviewed -- that Xeljanz will play a third-line therapy role until safety and efficacy is proven to that of the current biologics."
Payers could play enforcer here. A May study by Reimbursement Intelligence indicated payers would require patients to fail on at least two anti-TNFs before approving tofacitinib.
Price will be on par with self-injectable products costing roughly $25,000 a year. That was another surprise, as Wall Street had expected the new entry to be offered more cheaply.
In May an FDA advisory panel voted 8-2 that the drug's benefits outweighed potential risks. The agency then delayed the scheduled August PDUFA date until November, saying it needed time to review supplemental information Pfizer submitted at the agency's request.
Pfizer applied for both 10- and 5-mg dosages, but the FDA approved only the only the twice-daily 5-mg pill. The 10-mg version was associated with a doubling in the rate of infections in long-term extension studies and possible renal effects.
Scroll down to see the next article