January 21, 2010
P&G's Prilosec goes deep on social media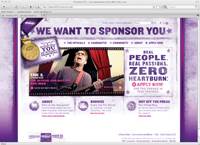 Procter & Gamble is launching a social media initiative for Prilosec as part of its bid to maintain the PPI's leadership position in a crowded market.

Dubbed "Official Sponsor of Everything You Do Without Heartburn," the contest invites consumers to post videos and stories making their case for items—such as cameras, classes or guitars—worth an average of $1,000 that will help them pursue their passions. Entrants can submit for 15 categories, including arts and crafts, sports, health and fitness and community service and volunteerism.

Visitors to the site, officialsponsor.com can register to vote for their favorites, and winners, to be determined by fan votes and a panel, will be announced in March and May. A Facebook fan page and Twitter handle provide program updates and details

Bridge Worldwide designed the site and MS&L is handling PR on the campaign.

In November, P&G launched a smilar campaign incorporating digital, PR, advertising and retail with its Madden Most Valuable Protector's Award. Sponsored by the brand in partnership with the NFL and John Madden, the award honors the NFL's best offensive lineman—again based on fan voting and an expert panel—and will be presented at this year's Super Bowl.

Scroll down to see the next article