May 09, 2011
Pradaxa DTC goes the white coat route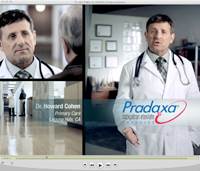 Boehringer Ingelheim is launching its Pradaxa DTC campaign with a first wave of white-coated doctors talking up the blood thinner for atrial fibrillation.
The TV ad, which debuted during the Kentucky Derby on Saturday, opens on South Miami cardiologist Dr. Yale Samole saying "Finally, there's a choice for my patients with an irregular heartbeat called atrial fibrillation, or AFib, that's not caused by a heart valve problem."
The tagline: "Pradaxa is progress."
"The insight we had when we talked to patients and caregivers was that they wanted to know what their physicians think of this new medication, when you've had a lack of innovation for 50 years," said Wa'el Hashad, VP marketing for cardiovascular and metabolic disorders at Boehringer Ingelheim. "So, we decided that the first wave of consumer advertising would be around how physicians think about this new innovative medicine."
Future advertising will stress that the drug offers 35% greater reduction in risk of stroke over warfarin, the older drug, said Hashad.
The company ran an unbranded campaign, dubbed "Heart-head connection," from September to April, with the aim of raising awareness of how clots that form in the heart can travel to the brain and cause stroke, driving viewers to
AFibStroke.com
. Boehringer has also created
FacingAFib.com
, which features actress Susan Lucci and her husband Helmut, who was diagnosed with AFib in 1999.
Newspaper ads launched today, in the
Wall Street Journal, USA Today
and
The New York Times
. The TV ads aired against this morning's
Good Morning America
and will air during tonight's
Dancing With the Stars
. The campaign targets an older audience, mainly 65 and up, and TV spots will play heavily during network news broadcasts and other slots reaching older viewers, while magazine ads will appear in
Good Housekeeping
and
Country Living Magazine
.
Grey handled creative on the campaign, and Chamberlain Healthcare PR is handling public relations on the brand.
The twice-daily oral drug, which doesn't require anticoagulation monitoring like warfarin, won FDA approval for prevention of stroke in patients with AFib in October, becoming the first new drug in its class in a half-century.
Scroll down to see the next article