December 04, 2008
Prescription Project: VNRs on YouTube are ads, must include warnings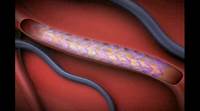 Drug industry watchdog The Prescription Project called on FDA to take action against video news releases (VNRs) and B-roll for Abbott, Medtronic and Stryker medical devices appearing on YouTube, and said the agency should issue guidance for online ads.

The group said VNRs, for Stryker's Cormet Hip Resurfacing System, Medtronic's Prestige Cervical Disk and Abbott's Xience V drug-eluting stent, should be pulled because they constitute advertising and do not include required warning statements. Furthermore, the group said the agency should require the manufacturers to post curative ads on YouTube and their own websites to "address and correct the erroneous information and impressions fostered by the original ads," and said Abbott should be fined.

"The FDA's role in policing DTC advertising is more important than ever because consumers injured by medical devices can no longer sue device makers for failing to warm them about known but undisclosed risks" following the Supreme Court's February decision in the case of Riegel v. Medtronic, the group said in a statement.

Abbott did not immediately respond to a request for comment, though a link to "important safety information" for the Xience V was displayed prominently on the videos, which included animation and patient and physician testimonials.

Medtronic issued the following statement: "We are committed to US Food and Drug Administration guidelines on direct-to-consumer advertising. Unfortunately, Medtronic content also can be posted to other websites by third parties. The video in question has been removed from the Internet. Any additional video produced by, or on behalf of, Medtronic that does not comply will be addressed immediately."

Medtronic confirmed The Prescription Project's contention that the device maker's video, a VNR, was placed on YouTube by VNR-1 Communications, the agency that produced it.

Stryker pulled its video, also a VNR and reposted it with a disclaimer directing viewers to a corporate website and 800-number for risk information. A spokesman said that due to the fact that it was an FDA matter, the company had no public comment, but it seems the agency, MediaLink, had initially decided the disclosure wasn't necessary for posting on YouTube.

The Prescription Project called on FDA to issue a "Draft Guidance on Consumer-Directed Broadcast Advertising of Prescription Drugs and Restricted Devices on the Internet…clarifying that Internet promotions are encompassed in the definition of broadcast advertisements" and detailing the requirements of online ads.
Scroll down to see the next article