April 25, 2012
Rathmann, biotech giant, banked Amgen on EPO drugs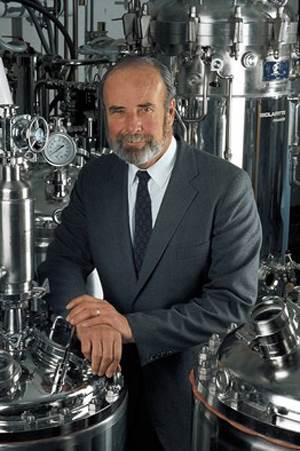 George Rathmann, Amgen's founding CEO and a forerunner of the modern biotech executive, died Sunday at the age of 84. He is credited with steering the firm deeply into EPO drugs, which now represent a multi-billion dollar franchise.
Those same drugs, Amgen's cash cows for two decades, are finally showing their age. In its first-quarter earnings release yesterday afternoon, Amgen said worldwide sales of EPO product Epogen—used to spur red blood cell production in anemia patients—fell 17% to $446 million, while revenue for a manufactured version of EPO, Aranesp, also slid 11% to $518 million.
The Aranesp decline was steeper in the US, at 19%, and was attributed to declining demand, while falling Epogen revenues were chalked up to new warnings and reimbursement changes.
Rathmann served as chief executive from 1980 to 1988, and board chairman until 1990. With a mix of business and science acumen (he held a PhD in physical chemistry from Princeton), the Wisconsin native helped build the company and attract scientific talent, while doing what all good biotech CEOs must: secure venture capital and strike partnerships. He also presided during the firm's IPO in 1983. Colleagues nicknamed him the "golden throat" for his persuasiveness, according to a statement by Amgen marking his passing.
During Amgen's start-up years, The Wall Street Journal noted, the company worked on chicken growth hormone, hepatitis B vaccine and a dye for blue jeans, but was "teetering on the brink of bankruptcy" in the mid-1980s before Rathmann approached the board about concentrating on Epogen. In 2011, the drug—used mainly in kidney patients, especially those undergoing dialysis—had US sales of $2.0 billion.
After leaving Amgen, Rathmann became CEO and chairman of biotech firm ICOS, later acquired by Eli Lilly, and then CEO/chairman of Hyseq.
Amgen, in the statement, called Rathmann a "biotechnology giant," and not only because of his 6' 5" frame. He laid the "vision and values" of the company. He was succeeded as CEO in 1988 by Gordon Binder, who was replaced in 2000 by current chief executive Kevin Sharer.
Another recombinant product developed during Rathmann's watch, Neupogen, is also experiencing weakness due to biosimilar competition. That and price decreases led to a 4% fall in combined Neupogen/Neulasta global sales for the first quarter vs. the year-ago period, to $291 million. But Neulasta US sales improved, offsetting the weak sales in the EPO franchise.
Prolia/Xgeva sales were in line with Wall Street expectations, while Amgen's other principal product, the injectable product Enbrel for rheumatoid arthritis and psoriasis, were also better, up 7% to $938 million, thanks mainly to price hikes. The drug recently won 17 more years of patent protection but faces a threat from an oral RA drug being developed by Pfizer—tofacitinib –which could be approved later this year.
Amgen and Pfizer, which co-promote Enbrel in the US and Canada and split revenues in those countries, also recently announced that Amgen would take over US Enbrel selling duties this July—a year before the term of their co-marketing agreement was set to run out.
The California company reaffirmed its 2012 guidance, and added that costs rose 5% in the quarter to $1.1 billion, primarily due to the launch of DTC advertising for Enbrel and for osteoporosis drug Prolia. During a call with analysts, Amgen said DTC campaigns for the two drugs would push costs up again in the second half of the year, according to ISI Group's Mark Schoenebaum.
Scroll down to see the next article