December 22, 2010
Red Cross targets youth with social media effort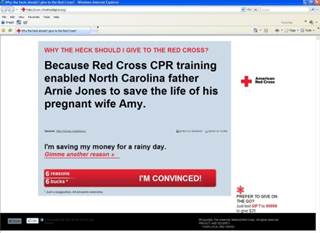 A holiday digital campaign dubbed "Why the heck should I give to the Red Cross?" is playing off of an Internet meme to raise awareness of the charity among younger people.

The campaign, by Razorfish, is aimed at youth and "digital natives," in particular, and takes its name from the "What the heck should I make for dinner?" and "What the heck has Obama done so far?" phenomena, which blazed through millions of Tweets and Facebook status updates earlier this year (generally with a more ribald phrasing). The microsite, at whyshouldigive.org, offers Tweet-worthy factoids about the group's work in the US that viewers can post to their Facebook or Twitter feeds.

"Most people think of the Red Cross as helping in times of disaster," said Amy Vickers, SVP strategy at Razorfish. "They don't realize that the Red Cross shows up locally, following home fires." And young people often have greater awareness of newer, buzzier charities than they do of larger and older service organizations like the Red Cross.

In addition to the microsite, which is embedded on the homepages of many of the group's 500-plus local chapters in the US, Razorfish created a "Twibbon" graphic featuring the American Red Cross icon that people can post.

"We're finding people clicking through a lot in search of the thing that resonates with them, and then Tweeting that," said Vickers. Cat people, for example, went gaga for one tidbit about an Oregon cat that was honored as a hero by the local Red Cross chapter for rousting his owners from bed and saving them from a house fire. There are hundreds more to choose from, many highlighting the work of local chapters.

The campaign will run through January.
Scroll down to see the next article