August 06, 2013
Regeneron seeks to edge Roche out of DME space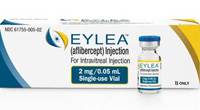 A year after its eye drug Lucentis landed the FDA's approval for diabetic macular edema, Roche's hold on this Eylea-free zone of the market may soon be ending. Regeneron, Eylea's manufacturer, said Tuesday that it expects to submit an NDA for this very same indication to the FDA this year, while its European marketing partner, Bayer, is on track to do the same abroad.
This would mean more than a me-too in the diabetic macular edema (DME) space. As noted by Forbes, Lucentis has a downside in that its label has a fatality warning. Eylea's does not, and that could give the Regeneron drug an edge if it too gets approved for use in DME.
It's not the first threat to Lucentis' hold on the eye market. The wet macular-degeneration drug saw immediate competition from off-label use of Genentech's Avastin, then from macular-degeneration newcomer Eylea.
DME is linked to blurry vision and even blindness, and estimates say it affects about 560,000 Americans.
Scroll down to see the next article