August 25, 2014
Roche spends $8.3B for lung drug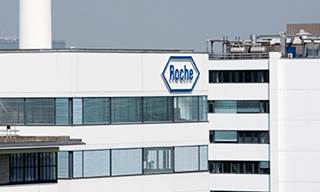 Roche has beat out rumored competitors GlaxoSmithKline and Sanofi in a run-off to acquire California biotech InterMune. The companies announced the $8.3 billion all-cash deal Sunday, drowning out news that the Swiss drugmaker had also decided not to purchase the remaining 38% of stock of Japan's Chugai Pharmaceutical.
The InterMune deal gives Roche immediate access to a favored experimental drug for the lung-stiffening and scarring condition idiopathic pulmonary fibrosis. There is no cure for the disease, and patients typically die within three to five years of diagnosis. InterMune's candidate Esbriet (pirfendione) is approved in the EU and Canada. It is also slightly favored by Jefferies analyst Eun Yang who wrote in an earlier research note that a poll indicated specialists liked InterMune's contender more than Boehringer's experimental IPF drug nintedanib.
Bernstein Analyst Timothy Anderson noted in a Sunday research note that Esbriet makes sense for Roche for two reasons: first, it fits with its respiratory portfolio, which includes the asthma medication Xolair (omalizumab) and cystic fibrosis treatment Pulmozyme (dornase alfa). Second, it's a "smart tactical move" for Roche to stretch beyond oncology.
Anderson notes that although $8.3 billion seems high for what amounts to a one-drug purchase, the price "reflects an unfortunate reality in the world of biotech M&A—good assets (especially late-stage ones) don't come cheap."
The FDA is set to approve or reject Esbriet in November.
Scroll down to see the next article