July 23, 2014
Sales of Biogen MS pill pick up overseas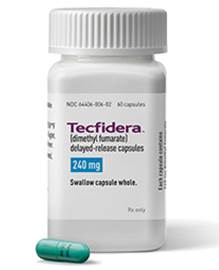 After debuting in April 2013 and becoming one of the most successful drug launches ever in the US, the MS treatment Tecfidera shows no sign of slowing down. Tecfidera boasted second-quarter sales of $700 million worldwide, handily beating analyst forecasts, Biogen Idec said this morning.
The MS pill's performance was the highlight of an upbeat earnings report from the biotech. "A fantastic quarter on all fronts," wrote ISI Group analyst Mark Schoenebaum in an investor note today.
Tecfidera continued to boost the biotech firm's sales. Its initial quarter on the market saw domestic sales of $192 million, with an estimated $110 million coming from pent-up demand. Analysts, however, were concerned for how the drug would be received internationally, especially after CEO George Scangos cautioned that the oral therapy could suffer from slow uptake outside the US, what with Novartis competitor Gilenya and Sanofi's Aubagio already having a head start overseas.
Tecfidera's European tour, which appears to be going better than planned, appears to have brushed those worries aside, for now at least. The earnings report shows that $115 million of the drug's worldwide sales came from outside the US. Germany is leading the charge, accounting for 75% of that revenue.
"We now believe we are seeing launch trajectories similar to US," said Schoenebaum in the investor note.
The quarter's highlights weren't limited to MS, however. The drugmaker has the wind at its back with the recent approval of Eloctate, an extended-release biologic which some analysts believe could upset the balance of power in the hemophilia market.
Overall, Biogen saw product revenue reach over $2 billion for the quarter, compared to $1.3 billion at this time last year, with R&D and SG&A costs rising along with it. MS infusion Tysabri saw a significant increase in sales, up 37% vs. the same last quarter last year, to $533 million. Tysabri benefited in the second quarter from an agreement with the Italian National Medicines Agency, eliminating a reimbursement snag for the drug.
The drugmaker also gave a small update on its MS antibody ANTI-LINGO-1, saying top-line data will be available in January 2015. The Phase-II drug targets LINGO-1, a protein expressed selectively in the central nervous system known to regulate myelination and regeneration.
Scroll down to see the next article