February 16, 2011
Sanofi-Aventis builds out diabetes social media presence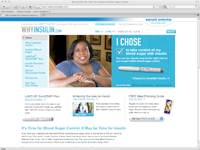 Sanofi-Aventis US is expanding its social media footprint with a new
"Discuss Diabetes" blog
and a "WhyInsulin" YouTube channel.
The company launched a
Facebook page
and
Twitter feed
for diabetes patients a few months back, and recently made its GoMeals carb counter app available for Android, as well as iPhone and iPad. The new sites, said VP US diabetes business unit Dennis Urbaniak, are meant to foster dialogue among patients – dialogue that will provide the company insights into the condition.
"Our goal is to become a total partner in diabetes care," said Urbaniak, "an organization aimed at health, not just treatment. And as a partner, we must truly understand the diabetes community and their needs – and then try to fulfill those needs …. Our intention is to engage in dialogue and create a safe space for people living with diabetes, and their loved ones, to share insights and feedback. We plan to take the information we gain from listening and engaging in dialogue and will use that to improve the content of our existing offerings and help make them more relevant to the diabetes community."
It's part of a shift, Urbaniak said in a recent blog post, "to be more of a 360-degree partner" to diabetes patients by extending offerings beyond medicines to include new services, devices, reimbursement options.
The Facebook page boasts 650 "Likes," the Twitter feed 564 followers. The Discuss Diabetes blog (discussdiabetes.com) features posts by Sanofi-Aventis US employees and is edited by senior manager, US diabetes patient solutions Laura Kolodjeski. The YouTube channel will be an extension of the existing
WhyInsulin.com
, with info about improving blood sugar control, learning about the myths and realities of insulin and patient stories. Sanofi Aventis also operates
Diabetescostars.com
, wherein Paul and Mira Sorvino share their story and offer tips, recipes and cooking videos.
The company was a YouTube trailblazer with its popular GoInsulin channel, which it launched in February, 2009 but took down early last summer in preparation for the WhyInsulin channel, which will launch in the next couple months.
Euro RSCG handles PR for the efforts, while InTouch Solutions is agency of record for social media and GoMeals.
Scroll down to see the next article