September 12, 2012
Sanofi wants adults to roll up their sleeves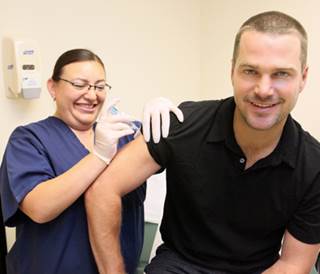 The flu season is upon us, and with it efforts to get needle-fearing Americans to roll up their sleeves and get immunized. Sanofi's contribution includes a promotion for its FluZone Intradermal Vaccine, approved at the tail end of the 2011 flu season, which typically runs from September through May.

This year's demographic push goes beyond just the indication – Sanofi conducted a phone survey of 663 adults 18-to-65-year olds and found a clear gap in understanding that getting vaccinated helps prevent the flu from spreading. Sanofi said 67% of the demographic surveyed in June said they worried about spreading the virus to loved ones, but 61%, or three out of every five, said they hadn't been vaccinated. To raise awareness, the company tapped actor and father of five Chris O'Donnell.

The promos cover a variety of topics, spotlighting the product's thin needle, mentioning that the actor gets vaccinated every year, and hammering home the message that getting vaccinated can protect others from becoming infected, particularly those in high-risk demographics such as infants and the elderly. The campaign also includes a "Coop de Quill VacciNation Tour," vehicle that will hit five cities – Baltimore, Chicago, Raleigh, San Francisco and Seattle – to share information about vaccination options. Walgreens, Rite Aid, CVS and Target are retail outlets with clinics that can provide the vaccine.

The CDC has been promoting annual flu vaccines for anyone six months and older since 2010. The numbers show prevention can be good business. Sanofi's overall influenza business has been growing, with sales of its FluZone and Vaxigrip/Mutagrip lines tripling between 1995 and 2011. Last year's sales for both seasonal and pandemic flu vaccines were almost $1.1 billion dollars. In the company's 2011 annual report, Sanofi forecast global demand for flu vaccines to continue in this direction for the next ten years, due to increased awareness and emerging market growth.
Scroll down to see the next article