August 07, 2013
"Sensor you swallow" passes psych test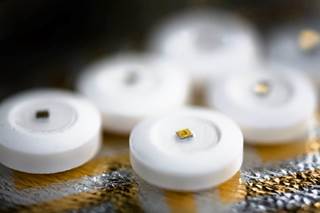 Proteus Digital Health's ingestible sensor, an adherence tool that's been successfully tested before in patients with diabetes and heart failure, also has utility for those on psych meds, a study suggests.
Placebo tablets with the FDA- and CE-approved sensors embedded were taken by a small group of people with bipolar or schizophrenia, along with their regularly prescribed oral meds. Electronic confirmation of ingestion with the digital tablets was nearly as accurate (94%) as direct observation of ingestion.
Armed with the psychiatric findings, as well as other successful studies in patients being treated for chronic illness, Proteus is gearing up to submit an application to the FDA for a fully digital pill, one in which its sensors get embedded in actual pills at the manufacturing stage.
It's been developing digital drugs, piggybacking off previously approved meds from Novartis and Otsuka. "We are embarking on a new class of therapeutic here," said George Savage, co-founder, and chief medical officer, Proteus. "Instead of it being a new molecule, it's a new strategy for helping get more value, and patients get more value, from molecules that already exist."
In the current study, no adverse events were seen with the device, which is as small as a grain of sand and transmits its signal wirelessly to a patch-like receptor worn on the skin. The patch passes the data on to a mobile phone app, through which it can be accessed, with the patient's consent, providing a foolproof means of measuring compliance.
In addition, during the May 2010-May 2011 study period, the mean adherence rate was 74%, and 67% of doses were taken within two hours of the prescribed time. Results were published in Journal of Clinical Psychiatry.
"The next step is to build the chip into the middle of the prescribed medication directly so there's one-to-one correspondence to what you're prescribed and the data," said Savage. Trials of drugs with the sensor in the middle have been done in tuberculosis and heart failure, and more are on the way, he said.
Because encapsulating the sensor constitutes a formulation change, an approval requires another NDA review. That filing hasn't been made yet. "We're estimating the first drug should pop out of FDA in two years," said Savage, adding that his firm has been meeting regularly with the agency.
In addition to its pharma partners, Proteus is also working with the Gates Foundation and the Chinese Centers for Disease Control on a pilot of the technology to help patients with TB.
There's interest: Of the 27 volunteers who completed the psych trial, 19 (70%) found the so-called digital health feedback system, or DHFS, easy to understand, and 24 (89%) thought it could be useful to them.
With medication adherence rates alarmingly low across conditions, Savage said he foresees applications in many disease states—mental health, transplant, dementia associated with aging and Alzheimer's disease, and conditions like heart failure—any place where adherence to medication is extraordinarily important.
Only a third-to-half typically continue to use medication therapy, or use it all as-directed by their physician, over the long term, Savage said. A large proportion of nonadherence is not willfull, conscious refusal to take medication, either, research shows. Patients simply drop off due to complexity, side effects, or because they can't recall what their doctor told them during the office visit.
"When you think of patients with chronic illnesses, it doesn't matter in this setting whether you come up with a much better molecule," he said. "If people can't use it right, you have an issue."
Scroll down to see the next article