June 21, 2010
Sepracor's 'boxing bed' ad hit with DDMAC untitled letter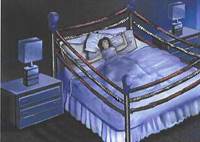 A 60-second TV ad for insomnia drug Lunesta, which portrayed a woman fighting for sleep in a bed-turned-boxing ring, drew an untitled letter from regulators.
The Division of Drug Marketing, Advertising, and Communications (DDMAC) said the ad made misleading claims, suggesting that Lunesta is clinically superior to other medications in second-line use and that its mechanism of action (MOA) is more precise than the package insert suggests. It was one of three marketing pieces cited by the division last week; a DTC patient brochure for Auxilium's Xiaflex and a sales aid for Cumberland's Acetadote also elicited letters.
The Lunesta ad opened with the clanging of a boxing bell and panned back to reveal a woman sitting in bed in the middle of the night, her bed bounded by the ropes of a boxing ring. "If you've taken your sleep aid, and you're still fighting to sleep in the middle of the night," states the voiceover, "…ask your doctor about switching to Lunesta and discover a restful Lunesta night."
Promotional materials cannot suggest that a drug is safer or more effective than another, when this has not been shown clinically, DDMAC's regulatory review officer noted.
The ad's characterization of Lunesta's MOA—"It keys into receptors that support sleep, setting your sleep process in motion"—also raised eyebrows at DDMAC, which said this claim implies that Lunesta's MOA is specific for and only affects the sleep-cycle. "This is not the case," wrote DDMAC. "Lunesta also carries many potential risks for serious adverse effects, including the potential for abuse or dependence.
Near the end of the commercial, the voiceover mentions several side effects, including abnormal behavior, worsening of depression and allergic reactions. Viewers are directed to a print ad in US News & World Report. DDMAC demanded stoppage of the ad by Sepracor, which markets Lunesta, and a written response from the company.
The Lunesta DTC account is handled by Interpublic Group's Lowe. Sepracor moved the business to Lowe last September, after stopovers at Publicis' Kaplan Thaler Group and IPG's McCann HumanCare.
Lunesta posted 2009 US sales of $813 million, according to SDI.
Scroll down to see the next article