March 20, 2012
Sermo looks for new leaders—and profitability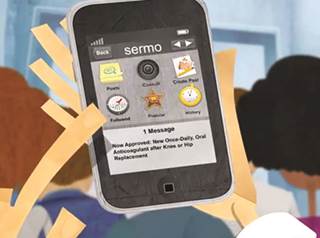 Sermo is searching for a CEO and a medical advisory board since the physician online community's founder, Dr. Daniel Palestrant, and chief medical officer, Dr. Adam Sharp, left in November to launch a new startup called Par8o.
VP marketing and membership Jon Michaeli said the seven-year-old firm is reaching out to its physician membership to fill some of the medical advisory board seats, of which there will be up to five.
"We've reached out to people in our community," said Michaeli, "who we believe are best equipped to speak for themselves."
He said the company would have an announcement on the positions soon. For now, Rich Westelman, SVP sales and client services, is leading the firm as acting COO. Asked if Sermo was profitable yet, Michaeli declined to discuss the topic. Backed by venture capital firms including Longworth Venture Partners, SoftBank Capital and Legg Mason Capital, Sermo has struggled to scale up and convert buzz and big name partnerships into dollars. The company made deep cuts toward the end of 2009. Some in the medical media world said missteps, including an AMA partnership that went sour and descended into acrimony and the site's policy of allowing docs to remain anonymous in their interactions with each other, contributed to sluggish commercial growth.
Meanwhile, a host of would-be competitors, like
Doximity
and
PeerCase
, have sprung up and begun to generate buzz on the Silicon Valley venture capital circuit. Doximity, launched a year ago by Epocrates co-founder Jeff Tangney, claims a more transparent membership vetting process and does not allow its users to post under anonymous handles. The site has attracted more than 40,000 members.
As of mid-February, Sermo boasted a physician membership of around 125,000.
"We made a conscious decision to focus on engagement rather than acquisition, having captured one in five physicians," said Michaeli. "Those efforts have really paid off and now it's time to look at [member] acquisition." The site recently rolled out new features including Sermo Speaker, by which the site hosts potentates to chat about policy and medicine – most recently, a session with Senator Coburn (R-OK) on healthcare reform – and Sermo Columns, a raft of new opinion pieces.
Michaeli said the firm was working on some new offerings, including "partnerships outside of the normal business model." Sermo has previously counted Pfizer and J&J's Janssen as partners, though the Pfizer deal has run its course and Michaeli said he couldn't speak to the status of the Janssen partnership.
In July, Sermo launched Sermo Mobile, and in August, the company released Sermo Sponsorship, a suite of offerings aimed at letting biopharma and life sciences firms buy a branded presence on the site.
As for Drs. Palestrant and Sharp, their new venture, whose name, pronounced "par-ate-oh," is an homage to a 19th-Century Italian economist, is predicated on the belief that the 2010 Affordable Care Act is doomed to fail at "bending the cost curve" and that spiraling healthcare spending will soon bring about the collapse of the nation's healthcare system. Since a European-style single-payer system is politically infeasible, Sharp and Palestrant theorize that we'll wind up with a more strictly market-based and consumer-driven system. They'll reveal more about their solution later in the year, they say, but it will involve referrals.
"Referrals is a way for us to jump-start the market," said Dr. Palestrant. "Two things that all marketplaces have in common are liquidity and price discovery. The way to start that liquidity is through the referral process. The number of referrals has doubled in the last ten years, and they typically occur when there's a change in diagnosis or an escalation of care. Doctors control both sides of it."
Still warring with the AMA, Palestrant and Sharp blame the society's CPT codes for a lack of pricing transparency. "It fuels the AMA's conflict of interest and makes it impossible for any of us to understand the actual cost of healthcare," said Palestrant.
Scroll down to see the next article