July 21, 2014
Shire, AbbVie join forces for $55B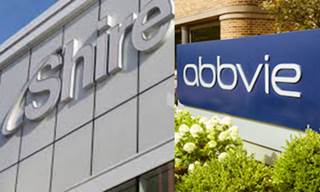 AbbVie and Shire are officially partners. The companies announced the $55 billion deal, which will fold Shire into AbbVie, on Friday. The alliance includes a $1.6 billion penalty if AbbVie decides to walk away from the deal.
The purchase means AbbVie will absorb Shire's drug portfolio along with a new tax address that will significantly cut AbbVie's corporate tax rate from the 30%-and-up-range to somewhere in the 20% range. Research firm GlobalData estimated in a report that this could translate into AbbVie being able to hang onto around $8 billion in Humira sales alone over the next decade-and-a-half. GlobalData says the lower tax rate would have also totaled around $350 million in savings if the lower tax rate were applied to AbbVie's 2013's financials.
Jefferies analyst David Steinberg noted in a Sunday analysis that the deal seals a possible escape hatch since the $1.6 billion penalty sticks even if AbbVie fails in its attempt to domicile in Ireland only to end up with the same US tax issue as before.
Part of AbbVie's pitch for the deal included the tax benefit as well as what it described in a corporate presentation as the ability to combine two companies with overlapping expertise in immunology, neuroscience, liver disease and rare diseases. AbbVie also said the fusion would create a company with nine R&D centers, 14 manufacturing sites and a market cap of around $137 billion.
AbbVie shareholders will end up holding around 75% of the new company, leaving the outstanding 25% for current Shire shareholders. Although this presentation includes a 2014 date, supporting documentation shows that Shire has been on AbbVie's mind since last fall when it started to look at the Irish company's pipeline and assets.
Shire CEO Flemming Ornskov will stick around for the corporate integration and will also help organize the New AbbVie's rare disease unit. Jefferies' Peter Welford wrote in a Monday research note that Ornskov's new post probably means AbbVie considers rare diseases a growth opportunity. He notes Ornskov bolstered Shire's pipeline with "attractive late-stage assets, including lifitegrast (dry eye) and Premiplex (retinopathy of prematurity) in ophthalmics, among several other orphan drug candidates."
Shire is heading into the deal with polished financials – Welford notes that the company's pre-announced second-quarter earnings showed "good growth in key ADHD and rare orphan disease franchises," including the Attention-Deficit Hyperactivity Disorder medication Vyvanse and rare disease medications Replagal and Firazyr. Shire also reported lower-than expected R&D expenses.
Scroll down to see the next article