June 29, 2012
Sobi, Watson get OPDP untitled letters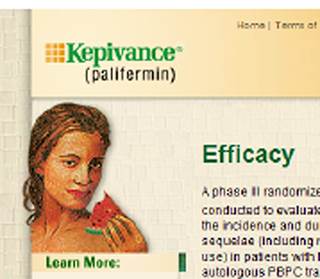 The FDA's Office of Prescription Drug Promotion has put Sobi and Watson Pharmaceuticals on notice with untitled letters. Dated June 7, the letters require the companies to stop promotions the FDA says are misleading, minimize risk and insufficiently display warning information.

The agency's letter to Quintiles, the US agent for Swedish Orphan Biovitrium (AKA Sobi), cited multiple problems with Sobi's website for the drug Kepivance (palifermin), which is used to treat patients with oral cancer (Sobi is a Swedish specialty biopharma that works in rare diseases, hereditary metabolic disorders, hemophilia, immunodeficiency and oncology. As the company's US agent, Quintiles essentially serves as the firm's mailbox in dealings with FDA).

"It completely omits the important risk information from the Warnings and Precautions section of the PI regarding the potential for stimulation of tumor growth," said the agency. "In addition, the webpage omits important risk information from the Drug Interactions section of the PI regarding a five-fold increase in palifermin systemic exposure with heparin co-administration and increased severity and duration of oral mucositis when Kepivance is administered within 24 hours before, during infusion of, or within 24 hours after administration of myelotoxic chemotherapy."

The agency's letter said the exclusion is an overreach and "misleadingly suggests that Kepivance is safer than has been demonstrated."

The FDA also found fault with the way Sobi relied on links to the PI as opposed to presenting the information on the site itself, finding them "not sufficient to mitigate the misleading impression created by the omission of this important risk information from the webpage."

The agency also had problems with the way efficacy was portrayed, and said the image of a woman holding a slice of watermelon, claims that a patient's daily diary show the stated improvements and that "Kepivance was associated with clinically meaningful and statistically significant improvements," are off the mark. Among the agency's issues: the data that accompanied the Kepivance BLA is "not considered substantial evidence to support claims that Kepivance improves the ability to eat, drink, swallow and talk." The letter also attacks the use of a patient diary, saying the agency hasn't validated the diary entry criteria.

The remaining webpage issues: misleadingly implying that the drug can decrease duration of opioid use, and the company's failure to submit the page when it went live.

Regarding Watson's journal ad for the iron deficiency drug Nulecit (Sodium Ferric Gluconate Complex in Sucrose Injection), the agency said that the ad suggests Nulecit has been proven to reduce the need for erythropoisis-stimulating agents, "when, to our knowledge, this has not been demonstrated by substantial evidence or substantial clinical experience." The FDA also said the study Watson used to support the claim relied on a nonrandomized, uncontrolled clinical trial.

The ad posits Nulecit as a cost-saving treatment over ESA-only therapy, but the FDA says the supporting studies don't provide substantial evidence.
Scroll down to see the next article