August 15, 2012
Spectrum expands Fusilev sales presence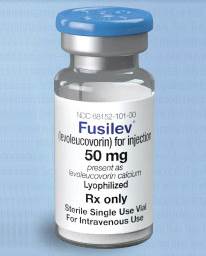 Spectrum Pharmaceuticals is putting more sales power behind its drug for metastatic colorectal cancer, Fusilev (levoleucovorin). The Henderson, NV, company said Wednesday that it plans to increase its marketing presence by assigning the sales staff that currently promotes non-Hodgkins lymphoma treatment Zevalin to sell the colorectal cancer drug, as well.
The company currently uses a contracted sales force to market Fusilev.. Shiv Kapoor, Spectrum VP, strategic planning and investor relations, told
MM&M
the additional help will add a layer of oncology expertise to the sales team. Having the Zevalin reps carry Fusilev in their bags will boost the contracted sales staff of 40 reps by around 50%, with no significant increase in operating expenses, the firm said.
The announcement coincides with a larger marketing scheme that includes a new Fusilev.com website, a new online campaign, and the launch of professional medical education tools and peer-to-peer education programming.
Of the company's two marketable drugs, Fusilev is currently in the lead, accounting for $108 million, or 12% of product sales for the six months ended June 30. In contrast, Zevalin brought in about $14.6 million for the same period.
The company's quarterly report for the period ended June 30 indicated a marketing push was imminent: SG&A expenses rose to $4.6 million for the quarter, an increase of close to 25% over the same period last year, when SG&A was $18.7 million. The increase broke out to include $1.4 million for advertising, branding, marketing and promotion, and $2.2 million went toward the expansion of the company's sales force.
Spectrum launched Fusilev four years ago, picking up accounts in community clinics and hospitals, but saw sales jump in the second half of 2010. The quarterly report and 2011 annual report attributed the uptick to "a shortage of generic leucovorin." The FDA then granted two new indications in April 2011 for palliative treatment of patients with advanced metastic colorectal cancer and for a Ready-to-Use version. Kapoor downplayed the importance of the cited shortage, and told MM&M that news reports have been overplaying the reported supply problems in terms of the product's success. He said Wednesday's strategy is based on company research that shows a clear line connecting reps, loyalty and sales numbers.
Scroll down to see the next article