July 15, 2009
Spiriva campaign gets All-Star debut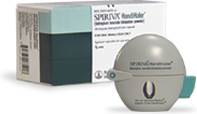 Major League Baseball's annual All-Star Game last night featured new DTC spots for Spiriva HandiHaler, an inhaler indicated for chronic bronchitis and emphysema.
The television spots were created by Ogilvy Healthworld, according to a Boehringer Ingelheim spokesperson, with forthcoming digital work handled by Digitas Health. Boehringer was not able to comment on the digital component prior to launch. The media mix for the campaign is currently limited to television, according to the spokesperson.
A 
60-second version
of the spot on Spiriva's brand.com site features an upper middle-aged female actor speaking about chronic obstructive pulmonary disease (COPD): "It can be tough living with COPD, but I try not to let it slow me down." The actor goes on to describe respiratory-intensive activities – swimming, dancing and playing hide and seek – that she enjoys, indicating that Spiriva has helped facilitate participation in those activities: "I'm breathing better with Spiriva."
The All-Star Game aired on the FOX Network at 8pm, and included a guest appearance from President Obama, who threw the first pitch of the game and also joined announcers Joe Buck and Tim McCarver in the box. National audience numbers were not yet available from Nielsen, though preliminary data from 56 markets showed a 10.4 household rating. The National League lost the game for the thirteenth consecutive year. A Flomax billboard was almost constantly visible behind home plate.
Spiriva is distributed by Boehringer Ingelheim (BI) and marketed by BI and Pfizer in the US. Marketing duties are shared "50/50" between the two companies, according to a BI spokesperson. 
Scroll down to see the next article