May 18, 2009
SSL taps Saatchi Wellness for Durex US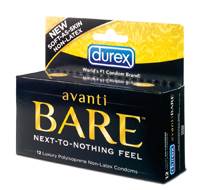 Saatchi & Saatchi Wellness won the US integrated marketing account for Durex following a four-way pitch.

The consumer arm of Publicis' Saatchi & Saatchi Healthcare Communications Group bested Atlanta-based incumbent Fitzgerald & Co., a unit of Interpublic's McCann Erickson network, and two other agencies for the brand, owned by SSL International PLC. The account covers advertising, digital, CRM and retail promotion for the franchise, which includes condoms, lubricants and vibrators.

The agency will also handle the launch of Durex's new non-latex condom, Bare, making its debut in July. Bare is billed as an ultra-thin alternative for people who are allergic to latex, with a "soft-as-skin," "next to nothing" feel. The launch campaign will put heavy emphasis on digital media, said Saatchi EVP, managing director Jim Joseph, "partially because that's where people find this information. It's an intimacy product, so there's privacy issues, and people look for that stuff online."

Durex dominates the European condom market and boasts 30% of the global market, but trails Trojan in the US.

Durex brand manager Steve Mare said in a statement: "We were looking for an agency that understood the importance of connecting with our consumers across all touchpoints in all channels. Based on the agency's creativity and insight, Saatchi & Saatchi Wellness was the clear choice."

The New York shop, whose parent group recently rebranded in an effort to break out of the pharma agency world and play in the larger health and wellness arena, has shortened its name from Saatchi & Saatchi Consumer Health + Wellness for simplicity's sake.

"We believe we're now the pre-eminent thought leader in terms of marketing wellness, and we wanted our name to pinpoint that," said Joseph.

Scroll down to see the next article