June 15, 2010
Star-studded warning on medication switching for epileptics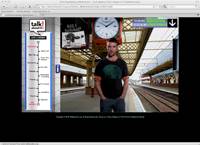 Lundbeck, Upsher-Smith, UCB and GlaxoSmithKline are among the sponsors of an epilepsy awareness campaign, featuring Heroes star Greg Grunberg, that warns of the dangers of medication switching.

Grunberg, whose son was diagnosed with epilepsy at age 7, previously partnered with the Epilepsy Foundation to create TalkAboutIt.org, a celeb-studded disease awareness website. New content on the site includes a segment on medication switching that's hosted by Aussie actor Jesse Spencer, who plays Dr. Chase on House.

"Not all epilepsy medications are the same," says Spencer. "Make sure your prescribed medicine is what you bring home."

Spencer's introduction cues up a video in which Grunberg recounts to a doctor specializing in epilepsy a time when he went to get his son's prescription refilled and was given a generic instead. His son began having seizures. The doctor, Brien J. Smith, MD of Henry Ford Hospital in Detroit, counsels that while nine in 10 epilepsy patients who are switched will be fine, there's no way of predicting who the other 10% will be.

Other sections of the unbranded site, designed by Day for Night, cover topics like first aid, lifestyle issues, employment, and advice for parents and friends of people with epilepsy.

Lundbeck makes Sabril for epilepsy, while UCB makes Vimpat and Keppra and GSK makes Lamictal.
Scroll down to see the next article