January 11, 2012
Study clouds effectiveness of stop-smoking drugs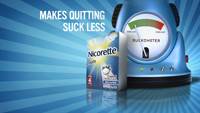 A study casting doubt on the effectiveness of nicotine replacement therapies in preventing relapses poses peril and opportunity for pharmas – particularly for Pfizer and GlaxoSmithKline.

The study of 787 adult smokers in Massachusetts found that quitters who used nicotine replacement therapy (NRT) products were no less likely to relapse over five years than those who quit cold turkey -- though relapse rates were highest among heavily dependent smokers who used NRTs but not professional counseling. The study did not gauge the frequently scattershot nature of adherence in NRT use among participants.

Both Pfizer and GSK highlighted the distinction between quit rates and the odds of relapse.

"NRT doubles your chances of quitting smoking," said a GSK spokesperson, noting that the World Health Organization and the CDC have backed the use of NRTs for fighting smoking, the number one cause of preventable death. "The study is looking at relapse after you quit. We believe there's not one magic thing that works for everyone. People need to have a whole range of things available to them."

GSK boasts nearly half of the half-a-billion-dollar OTC smoking cessation market, with US sales of $242 million in 2011, according to SymphonyIRI figures. The company said in 2011 results that its US smoking control franchise, which includes Nicorette gums and lozenges and Nicoderm CQ patches, grew 13%, while sales in Europe, where the company markets its NRT products under the Nicabate and Niquitin brands, grew 31%, buoyed by retailer restocking.

Pfizer dominates the $400 million prescription portion of the category with its Chantix and Nicotrol brands. Chantix – a non-nicotine drug that blocks nicotine receptors and may also mimic nicotine by stimulating dopamine release – is the leading prescription smoking cessation product, with $360 million in 2010 sales, according to IMS Health data. The company's Nicotrol NRT inhaler runs a distant second, with $22 million in sales, followed by a Nicotrol nasal spray, with $6 million in sales. Teva's generic buproban (Wellbutrin), an antidepressant also indicated for smoking cessation, took in $5 million, as did all other brands, according to IMS.

Pfizer declined to comment on the study but issued the following statement: "While the health benefits of quitting smoking are immediate and substantial, quitting smoking is a journey and quit strategies can range from 'cold turkey' to gum and NRT to other medications and counseling. It is important for smokers to have options."

The study, by researchers with the Harvard School of Public Health and the University of Massachusetts in Boston, appeared in the journal Tobacco Control.
Scroll down to see the next article