July 05, 2012
Study: Obamacare is a net loss for pharmas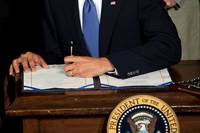 One of the main assumptions underlying the deal PhRMA cut with the White House and Senate Democrats on the Affordable Care Act (ACA) was that as 30-plus million formerly uninsured gained coverage,
drug utilization would increase
and drug company revenue gains would alleviate and maybe even outpace agreed-upon industry sacrifices.
But PricewaterhouseCoopers has run the numbers, and if the firm's
math
is right, the pharmaceutical industry comes out $140 billion in the hole by 2021 after a measly $15 billion in ACA-related sales gains. And that's before accounting for states like Florida and South Carolina opting out of the law's Medicaid expansion,
as the Supreme Court has said they can
without facing cuts in federal Medicaid supports.
On the debit side of PwC's balance sheet are a host of give-backs to government that PhRMA negotiators, led by then-chief Billy Tauzin, agreed to, including: Discounts to fill in the Medicare Part D "Donut Hole" ($41 billion); increased Medicaid rebates ($40 billion); an annual industry fee that adds up to $31 billion; and forecast losses due to the biosimilars pathway established by the ACA. On the credit side: $15 billion in sales from the newly insured. Result: pharmas lose $140 billion—nearly 5% of industry revenues for the period covered (2012-2021).
Asked how PwC came up with that $15 billion projection for revenue gains, a spokesperson said in an email: "The source is PwC. The methodology for PwC's internal analysis is consistent with methodology used by [the Congressional Budget Office] in determining changes in drug spending following changes in drug coverage. The number of people gaining drug coverage (through their gaining insurance coverage under the ACA or experiencing improvements in existing coverage under the ACA) is tied to CBO's projections of changes in insurance enrollment." The CBO did not return our calls.
"If you think about who's going to be covered, it's hard to imagine increased utilization leading to a windfall," said Richard Manning, a former Merck and Pfizer policy analyst who's now a partner at Washington economic consulting firm Bates White. "Think about the people who don't have insurance—it's either young and relatively healthy or sick and pretty complicated and often not seeking out care. If they're covered under Medicaid, they might be heavy users of generics rather than branded pharmaceuticals."
There are a number of intangible benefits for pharmas in the law. First and foremost, though it might be hard to remember now, prior to the economic crises, there was an incredible amount of public angst about the tens of millions of uninsured and underinsured Americans, and because drug prices are, for most, the most visible healthcare cost, pharmas often bore the brunt of that ire.
The industry's sacrifices also bought pharmas a seat at the table as the bill was being hashed out, letting PhRMA negotiators nix deal-breakers like legalizing importation of drugs from Canada and other countries, or various price control schemes—though the trade group was unable to head off the implementation of the Independent Payment Advisory Board for Medicare. Unlike the less-cooperative device industry, on which the White House and Senate negotiators levied a harsh 2.3% excise tax, PhRMA got some say in how it would help make the law revenue-neutral, and much of the drug industry's contribution is going towards shoring up the Medicare Part D prescription drug benefit, which has provided a nice boost to utilization.
Those intangibles will be cold comfort to the biopharma bigs that felt Tauzin gave away the store in his dealings with the White House. Tauzin left PhRMA abruptly in February 2010, before the bill was passed and at a time when it looked like it might not make it.
A PhRMA spokesperson said that the group was reviewing the PwC numbers and had no comment beyond that issued in response to the Supreme Court decision. That statement, attributed to CEO John Castellani, said: "We respect the Court's decision and recognize that there will be ongoing policy discussions about the future of health care in America, and about the impact of today's decision on the health care law. We will work with Congress and the Administration on a bipartisan basis to address these important issues and will continue to advocate for an environment that fosters medical innovation and access to new medicines. We will also continue to work for necessary changes to the Affordable Care Act, such as the repeal of the Independent Payment Advisory Board (IPAB)."
Scroll down to see the next article