March 31, 2010
Takeda launches IBS unbranded site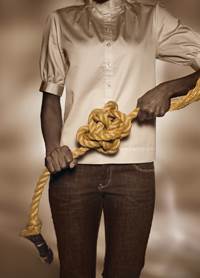 Takeda is observing Irritable Bowel Syndrome (IBS) Awareness Month with the launch of an unbranded website for patients called Let's Talk IBS. Campaign materials include a video featuring Dr. Lauren Gerson, along with tips, treatment options and other interactive areas for patients.
The campaign uses visual metaphors to describe how IBS sufferers feel, with images of people holding dart boards, knotted rope, inner tubes and pressurized gas tanks to their abdomens. In one section of the website, visitors can drag and drop similar images onto a blank T-shirt to describe their experience with the disorder. Ketchum is a PR partner on the campaign.
The creative for the Let's Talk campaign is reminiscent of the much discussed (and much recalled) ads for Novartis' Zelnorm, which introduced bare stomachs as a medium for messaging. FDA took Zelnorm off the market in 2007, citing cardiovascular risks.
Takeda markets Amitiza in the US through a partnership with Sucampo Pharma Americas. Under the "Treatment Options" tab at Letstalkibs.com, visitors will find a link to Amitiza.com down at the bottom of the page, beneath other suggested treatments for IBS including OTC treatments, antispasmodics and antidepressants.
Sales of Amitiza (lubiprostone) were up 8.2% in 2009, to $209.2 million, according to a Sucampo annual report. Fresh branded creative is in the works.
Scroll down to see the next article