May 14, 2014
Teachable moment for new allergy tabs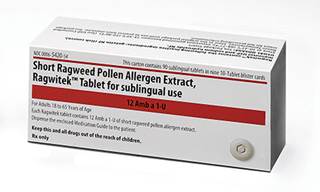 This spring saw not one but three sublingual allergy immunotherapy tablets gain US approval.
In a note to members, James Li, president of the American Academy of Allergy, Asthma & Immunology, called it a "significant moment for our specialty."
It coincides with what some are calling the worst allergy season in the last four years. It could be a while before the new drugs are made available for patients, though. And before educating the public, specialists need to become versed in the drugs themselves.
An alternative to traditional allergy shots, the drugs—also known as SLITs (sublingual immunotherapy tabs)—are intended for the 3 million people in the US who refuse subcutaneous injections, and the 3 million who discontinue them. The allergen extracts dissolve under the tongue.
Greer Labs' grass-pollen allergy tab Oralair, which includes a mix of five grass pollens, was the first FDA-approved SLIT. It was followed by Merck's two tablets—Grastek, approved for grass allergy, and Ragwitek, for ragweed pollen.
Merck licensed the products from Danish company ALK-Abello, which has sold Grastek in the EU since 2006 under the name Grazax (the firms' third SLIT, for house dust mites, is in Phase III).
ALK-Abello CEO Jens Bager told MM&M by e-mail that, since the tablets are so new, "HCPs need to be educated in all aspects of the products: indication, first dosing, side effects, patient education and documentation."
"Our launch strategy is really focusing on introducing those two products to…allergists and [ENT] doctors," said Merck EVP Adam Schechter on the drugmaker's first-quarter earnings call.
"We are trying to do that where we get access quickly with the payers and we have some education and market development work that we have to do," he said. "I think that we missed the grass season this year, so we'll have to try to do a lot of work to get ready for the grass season next year."
A Merck spokesperson said the firm will deliver both live and online med-ed offerings on the products. Due to the proximity to the grass season, educational activity around Grastek is likely to be limited.
That's because the first dose of the products needs to be started at least three months before the expected onset of pollen season—usually May for grass, and August to November for ragweed.
"The focus is clearly on Ragwitek right now," Hendrick Nolte, section head of respiratory clinical research for Merck, told MM&M in an interview.
But, as there's likely to be a number of patients who are allergic to both grass and ragweed, Nolte said, it would make sense for physicians to have experience with both tablets, so that if they find it's useful and tolerable, adding on Grastek next spring "might be a nice option."
The drugs' approved labels require that prescribers be trained, or have experience in, immunotherapy, as well as for the first dose to be administered in the doctor's office so that patients can be monitored for life-threatening allergic reactions such as anaphylaxis, in which case the physician gives epinephrine. (All carry a boxed warning.)
Other side effects can include tolerability issues like mouth blisters. Merck says those typically fade within a couple of weeks and that the average discontinuation rate due to adverse events in clinical trials was only 5%. Physicians should take time to speak with patients about what they can expect, Nolte said.
Compliance among European patients hovers around 80%, said ALK-Abello's Bager.
Analysts say the need to introduce the drug to specialists first, rather than to primary care doctors, limits sales potential. Consensus estimates for sales of Grastek in the US are only about $130 million in 2019, according to ISI Group's Mark Schoenebaum.
Current sales of Grazax are less than $100 million, he wrote in a note to clients. "But MRK and ALK-Abello are more optimistic in the long term prospects of Grastek and the potential for the market to evolve gradually from historical subcutaneous allergy shots."
A Greer spokesperson said grass allergies are the most common seasonal allergy in the US and that most people are allergic to more than one type of grass.
"In regards to working with allergy specialists," the spokesperson wrote in an e-mail, "Greer's sole focus is allergy immunotherapy which we feel is a strong differentiator."
All three of the new tablets may encounter initial resistance from payers, though. The American College of Allergy and Immunology, in a communication to its members about the products, noted that "Carriers may be reluctant to allow 'new' drug formulary [penetration] in the first six months."
Scroll down to see the next article