September 21, 2010
The Little Blue Book publisher rebrands, expands offering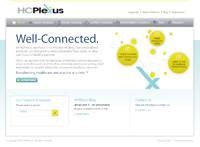 A year after purchasing WebMD's The Little Blue Book, a referral directory for docs, mdHub changed its name to HCPlexus, and expanded its offerings to include, among other things, an iPad leasing program.
Physicians and other HCPs can now access The Little Blue Book (and its related products) without advertising, via paid subscription, or for free, with drug ads. According to David Shrier, HCPlexus's CEO, "a lot of physicians prefer to get ad-supported [content]. Our content philosophy is about choice."
Shrier could not disclose download metrics for the mobile version of The Little Blue Book, which launched on August 3, but said he is "extremely gratified by the rapidity with which physicians and others have taken up mobile." Regarding the iPad leasing program, a pharmaceutical marketer can underwrite the lease, and deliver an iPad preloaded with The Little Blue Book and other "essential reference tools" to physicians in practice, said Shrier.
Other new HCPlexus products include a formulary listing, and an online search function for The Little Blue Book (the latter will launch in October), according to Shrier. "We ask physicians what they want, and then go build it," he said.
HCPlexus, a portmanteau comprising "HCP" and "plexus," has sold programs into three of the top five pharmaceutical companies, and one of the top three pharmacy chains, said Shrier, adding that all new products "have metrics and measurability built in."
Scroll down to see the next article