June 24, 2014
Vertex to submit CF drug combo to FDA this year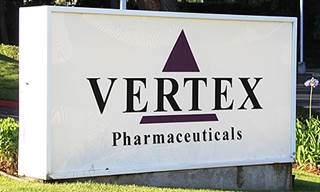 Phase III results showing improved lung function among cystic fibrosis patients using a combination of Kalydeco and lumacaftor means drugmaker Vertex will be able to file the two-part treatment for FDA approval during the fourth quarter. The company noted in its 2013 annual report that positive mid-year trial results would mean an end-of-year application.
Vertex announced the results and the intent-to-file Tuesday, when it released data from its TRAFFIC and TRANSPORT studies.The company will seek an indication to treat CF patients ages 12 and up who carry the F508del mutation on both DNA strands.
"On average, people with CF who have two copies of the F508del mutation lose nearly two percent of their lung function each year, underscoring the urgent need for new medications," lead researcher Bonnie Ramsey said in a statement.
Patients across all four arms of the studies hit the primary endpoint which was improved lung function, and showed improvement at every check-in point throughout the study, compared to placebo group. Vertex said patient improvements were in addition to any benefits patients may have accrued as part of their other CF medication regimens.
Patients also experienced less frequent pulmonary exacerbations of between 28% and 43% over the 24-week study period.
ISI analyst Marc Schoenebaum wrote in a morning analysis that the "results are not a home run" but "we think that the data are good and support approval." He projects the drug's peak sales could hit $5.5 billion.
The Cystic Fibrosis Foundation says around 30,000 children and adults in the US have the disease, and one in 31 Americans carries the gene but does not have CF. The disease is caused by the inability to create the CFTR protein which transports sodium into and out of cells. Health and Human Services data indicate CF patients have a median life expectancy of around 37 years, compared to age 10 during the early 1960s.
An approved drug combination could also provide Vertex with some much-needed cash. The company has been bleeding money because its oral hepatitis C medication Incivek has been shadowed by new drugs including Gilead's Sovaldi and Janssen's Olysio.
Kalydeco, which is indicated for CF patients six years and up who have one of nine specified CFTR gene mutations, has helped soften the impact of sliding Incivek market share, but the company is logging declines, with $1.2 billion in sales last year, as compared to $1.5 billion in 2012 and $1.4 billion in 2011.
Second-quarter Incivek sales fell 77% compared to the same period last year and Vertex expects they will only continue to fall.
Scroll down to see the next article