October 20, 2010
Walgreens partners with Epocrates to highlight drug rebates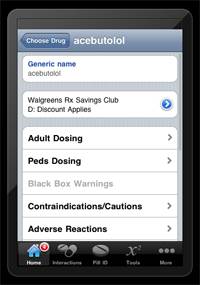 Walgreens is hoping physicians will consider its "Prescription Savings Club" list of over 8,000 brand and generic drugs before deciding which script to write for underinsured or cash-strapped patients. Epocrates will provide point of care access to the list via mobile device starting today.
The Prescription Savings Club includes treatments spanning "every drug category" and "most chronic conditions," like insulin, statins and antivirals, as well as preventative and lifestyle drugs, in categories like weight management, smoking cessation and family planning, according to a statement on the partnership.
Michael Polzin, a spokesperson for Walgreens, said Epocrates was chosen over other mobile drug reference platforms based on its "breadth of use" among physicians. The Prescription Savings Club, which Walgreens describes as a formulary (although it is not affiliated with any health plan), is meant to provide savings to patients without insurance, or filling scripts only partially covered by a health plan. Drug savings are based on the quantitative purchasing power of Walgreens, said Polzin. Walgreens operates 7,580 drugstores in 50 states, and had revenues of $67 billion in fiscal year 2010, according to a statement.
In an April 2009 survey of its users, 68% of physicians (out of 2,075 surveyed) reported having changed a prescribing decision based on formulary information available via Epocrates, according to Erica Sniad Morgenstern, an Epocrates spokesperson.
Scroll down to see the next article