January 29, 2014
Watershed year ups expectations for Biogen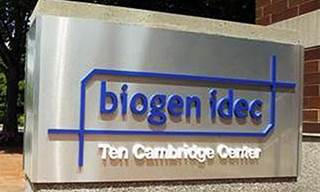 Biogen Idec capped a watershed year, which saw the launch of the firm's highly anticipated MS pill Tecfidera, with a strong finish.
In the fourth quarter, the Cambridge, MA, company saw sales spike by 39% vs. the year-ago quarter, to $1.97 billion. Full-year 2013 sales rose by 26% compared to 2012, to $6.9 billion.
Tecfidera played no small part in the strong quarterly results. The pill, approved March 27, generated $398 million in Q4 sales, handily beating analysts' consensus forecast by $44 million.
Paul Clancy, Biogen's chief financial officer, said that of the new Tecifidera starts in the last quarter, roughly 70% were "switchers," and 30% were treatment naïve or "returning quitters."
Biogen Idec CEO George Scangos said during the firm's fourth-quarter earnings call that 2013 was an inflection point. That is, a year in which the company moved from two major marketed products to three, after the addition of MS pill Tecfidera, and is now looking at a possible six, when taking into account already marketed MS products Avonex and Tysabri, as well as late-stage contenders Plegridy (MS) and Aprolix/Eloctate (hemophilia).
Commercializing these innovations, the CEO conceded, would be a "challenge for most organizations." As far as the year ahead, Biogen forecasted 2014 revenue growth of 22% to 25%, slightly higher than street consensus of 21%.
Management said it expects Tecfidera to continue to be a significant revenue contributor. It's set to be approved in the EU. But growth challenges loom. During the Q&A portion of the investor webcast, Tony Kinglsey, Biogen's EVP, commercial operations, was asked how Teva's three-times-a-week formulation of MS injection Copaxone—which was approved today—will affect the MS landscape.
The new formulation "will create competitive noise in the marketplace," Kinglsey said. But, he added, "it's going to put 85,000 patients in play for switch. We think we have a good alternative for those patients. We'll have a strong presence in offices competing for that."
The company hiked SG&A spend to $1.7 million for 2013, from $1.2 million in 2012.
The second possible impact of the new Copaxone shot, Kingsley offered, was that "it will add to the toolkit that payers have to put pressure on the category."
Biogen also says it's earmarked $200 million for business-development activities to supplement its pipeline prospects and to aid its own internal R&D. Scangos explained that the company is looking to in-license Phase-I/II compounds, and that part of that money will also go to improve the technology platform.
Scroll down to see the next article