May 04, 2010
What's behind Humira's bullish forecast?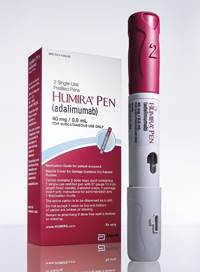 A report predicting that Humira will become the world's biggest product in two years' time generated positive news for the Abbott Labs/Eisai arthritis drug. Several factors are driving the bullish forecast.
While growth is by no means a given, analysts are actually optimistic about the entire class of biologics called TNF inhibitors, which are often used to treat rheumatic diseases, like rheumatoid arthritis (RA), ankylosing spondylitis, Crohn's disease, psoriasis and ulcerative colitis. According to the forecast, by EvaluatePharma, Humira will become the top-selling anti-TNF—and the world's biggest product—in 2012 with global sales of $8.3 billion and will retain its top spot until 2016, when sales could exceed $10 billion. Anti-TNF drugs from Pfizer/Amgen (Enbrel) and Johnson & Johnson/Merck (Remicade) will reach the no. 3 and no. 7 spots on the top-10 list, the forecast noted.
Jeffrey Stewart, who heads up Abbott's US Humira business, summed up the reasons why analysts are keen on these drugs. "The unmet need is great, the therapeutic gain and net value is very significant vs. the standard of care, and a significant number of patients [for whom anti-TNF drugs are indicated] still have not been put on these medications," said Stewart, who is divisional VP for immunology, in Abbott's pharmaceutical products division.
Humira has an edge over the four other marketed TNF inhibitors, "We're the only self-injectable TNF inhibitor in the category that works across the bones, skin and the gut," said Stewart, referring to Humira's indications for RA, psoriasis and Crohn's. Enbrel is approved for RA and psoriasis but not Crohn's, and Remicade is an infusion product, not an injectable like Humira, UCB's Cimzia and Simponi, which Centocor Ortho Biotech launched last year. Humira is also being tested for ulcerative colitis and pediatric Crohn's.
In addition, Stewart said, Humira has 98% patient access through payer channels. A patient-support program, MYHumira, verifies benefits. The newly prescribed also get a housecall from a visiting nurse and 24/7 phone support. "In this category, it's not just about your sales reps; it's about your integrated support for the patients," Stewart noted.
The complexity of anti-TNFs dictates a multichannel marketing approach. Humira has used both branded and non-branded communications to educate patients and professionals, as well as television, although the brand is not currently running on TV.
For now, Remicade is the top-selling anti-TNF on the US market, with $3.3 billion in sales last year, a 4.3% increase over 2008, followed by Enbrel and Humira. The US rheumatology drug market increased 2.4% to $19.1 billion in 2009, from $18.6 billion in 2008, according to Wolters Kluwer Pharma Solutions.
That modest rise may belie the potential of the category in coming years. Lipitor and Plavix— today's two top blockbusters—are losing patent protection in 2011 and 2012. And, as EvaluatePharma noted, analysts have downgraded sales forecasts for Roche's Avastin after negative results from a number of trials testing the drug for additional indications, such as prostate cancer.
An earlier Thomson Reuters consensus sales forecast had predicted that by 2014 Humira would become the world's second biggest-selling drug, behind Avastin. Enbrel and Remicade would take 3rd and 5th place, according to the Thomson Reuters report.
Scroll down to see the next article