July 01, 2013
Xarelto print ad puts Janssen in hot water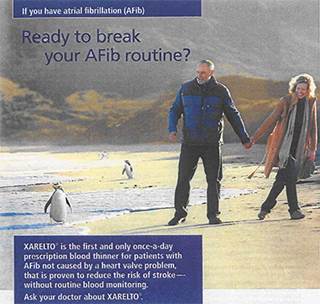 FDA advertising watchdogs have taken issue with a Janssen ad for blood thinner Xarelto. The agency's Office of Prescription Drug Promotion issued a June 6 untitled letter to outline the reasons for its displeasure with an ad the drug maker ran in the January/February issue of WebMD Magazine.
The bad-ad team says the ad's use of bold-face type and colorful text is used in such a way as to minimize the drug's risks, particularly because the facing page outlining the risk lacks the colorful text and boldfaced styling, making the two pages appear "unconnected to the efficacy claims,"according to the letter.
The advertisement does boldface the phrase "Please see accompanying Medication Guide on the following pages," but OPDP says this is not sufficient.
OPDP said the ad also makes a misleading claim, asserting that "there are no dosage adjustments..." This conflicts with the PI's statement that dosage should be lowered for certain patients, OPDP wrote.
Scroll down to see the next article