October 09, 2013
Xeljanz line extension could lift drug's profile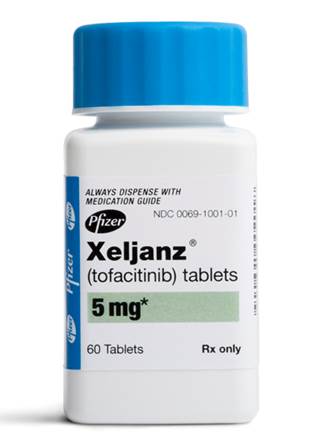 Early Phase III results from Pfizer's round of testing RA drug Xeljanz in a psoriasis setting could help bolster the rheumatoid arthritis drug's reputation and, perhaps, its sales. The drug maker will release the data later, but said in a statement that the drug's 10mg dose hit its non-inferiority benchmark when compared to Amgen/Pfizer's Enbrel, although it missed this same benchmark when comparing a 5mg dose of Xeljanz with Enbrel.
ISI Group analyst Mark Schoenebaum wrote Wednesday that the results could affect how HCPs view the drug, because the Phase III psoriasis results indicate a dose-response relationship for efficacy in this potential indication. In this instance, the analyst wrote that the drug, which was approved last November only in the 5mg dose for RA patients, could be perceived as "inferior to Enbrel and other biologics with a similar and less robust pool of long-term safety data," but that the dose-response note in the company statement for the 10mg version of Xeljanz "could change the overall efficacy and safety profile of the 10mg dose in psoriasis."
Schoenebaum added that the dermatology market is a large one and around 10% of the moderate-to-severe pool of psoriasis patients uses biologics to treat their conditions. Schoenebaum estimates Xeljanz has potential to generate sales in psoriasis of about $1 billion worldwide.
Pfizer said it expects results from five psoriasis clinical studies will provide the foundation for an FDA submission and anticipates that results from two of these studies will surface in the second quarter of next year.
A positive psoriasis outcome could also fill out expectations surrounding Pfizer's anticipated break-up into three businesses around 2017. The company said in July that it would begin providing distinct financials for its three potential businesses—two innovative companies and a value business—starting next year.
The potential split creates a lopsided innovative space. ISI's Schoenebaum projected in an Oct. 2 conference call that "innovation business one" which contains vaccines, oncology and consumer healthcare accounts for about $15 billion of current Pfizer revenues and is top-heavy with drugs like ED drug Viagra, smoking cessation treatment Chantix, transplant medication Rapamune, OAB treatment Toviaz and RA drug Xeljanz. He described this business as one with "limited clinical risk, but significant commercial risk."
The second, and separate innovative business, is one Schoenebaum said is more like a biotech, with a small, estimated base of around $9 billion of current Pfizer sales, and a future that is highly dependent on the pipeline breast cancer drug palbociclib. This second innovative group also includes pneumonia vaccine Prevnar, but palbociclib is the core of the potentially independent business unit, much like the role AbbVie's Humira plays at that company.
A psoriasis indication for Xeljanz could add lift to the theoretical "innovation business one" unit, and also provide a bit of redemption. The drug has not tipped the company into post-Lipitor recovery mode in the US. The EU
rejected
the drug for RA, further limiting its reach.
Moving into psoriasis is not uncommon for this class of RA treatments. AbbVie's Humira's growing list of indications includes RA, plaque psoriasis, Crohn's disease, ulcerative colitis, among others, is a key example of the line extensions that are possible for RA treatments.
Scroll down to see the next article