June 26, 2012
Zytiga gains traction, Provenge stands still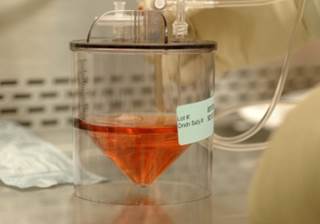 Dendreon's prostate cancer drug Provenge may be a first-line treatment, but a recent poll by Kantar Health shows that competitor Zytiga is gaining ground. Oncologists at the June ASCO conference in Chicago told the marketing firm that they now expected to use the drug off-label, meaning before chemotherapy, for about 53% of their patients, based on the information presented at the conference. Before the meeting, that number was 23% of patients.
Zytiga
is currently approved after patients have been treated with docetaxel.
The significant change could be construed as a reason to revive industry chatter about Dendreon's future plans, but Credit Suisse analyst Lee Kalowski told investors in a June 26 research note to expect the company to stay independent and focused on the present. His reasons: the recent on-boarding of CEO John Johnson from Savient and ImClone and last week's departure of Dendreon's head of business development, David Ghesquiere.
"BD team is unlikely to be reorganized in the midst of negotiations, or if it is close to reaching a non-disclosure agreement (NDA) with an acquirer," Kalowski wrote.
Licensing deals also appear to be out of the question. "It doesn't seem that the major urology/oncology players are interested in a tie-up with DNDN" Kalowski wrote.
The Seattle biotech has left professionals and the industry somewhat cold. The company has exactly one drug to sell: the bespoke prostate cancer drug Provenge, which combines prostate cancer antigens with a patient's own immune cells and comes with a $93,000 fee doctors must pay for upfront. Sales have so far failed to meet expectations since the FDA approved the drug two years ago and the company had a deficit of $1.7 billion as of March 2012.
At the same time, the company has not modified its messaging – Dendreon said in the fall that it was changing up its marketing strategy, yet an analyst told
MM&M
that they've seen no change and the company is still using one approach for both urologists and oncologists.
"Management's focus now should be (and we believe it is) on increasing utilization at existing accounts and cutting costs," Kalowski wrote.
Scroll down to see the next article