March 23, 2018
ePharma: Novo Nordisk's lessons from a diabetes education campaign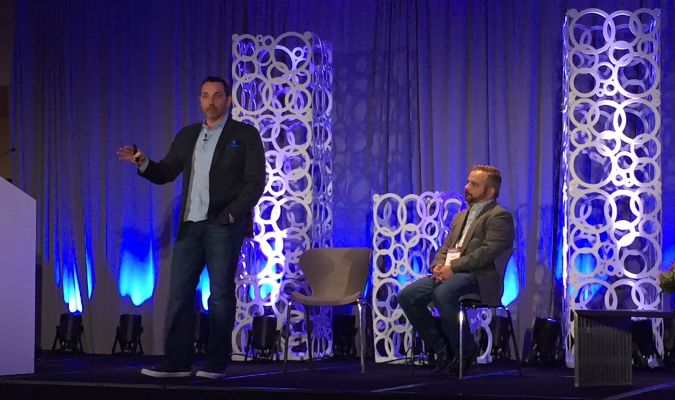 L-R: Jeremy Shepler, head of U.S. commercialization for Ozempic and Ascender's Joseph Yenish
To fill the gap in online information about diabetes, Novo Nordisk turned to YouTube star Michael Stevens, who runs the Vsauce channel, and pulled together a mix of marketing strategies including influencers, original content, and SEO.
Jeremy Shepler, head of U.S. commercialization for Novo Nordisk's diabetes drug Ozempic, talked about lessons learned from the diabetes campaign at the ePharma Summit in New York on Thursday.
The company's diabetes marketing team was looking to reach recently diagnosed patients who were trying to learn more about the disease. Novo Nordisk wanted to educate, but not necessarily push patients toward the brand name drug when it launched the push in October 2014.
"We don't always need to drive to 'brand.com,'" Shepler said. "As a leader in diabetes, we're faced with a situation, and a real challenge: how do we help patients understand complexity of this disease in most simple terms that doesn't look like a health lecture."
That's how the team landed on Stevens' educational videos. At the time, videos that explained the basics of diabetes were scarce and patients were often stuck between reading complex health information meant for doctors or articles and websites that spread misinformation about the disease, Shepler said.
The end result was 39 diabetes videos, hosted by Stevens, and more than 2 million total views. Even several years later, the videos are still getting hits thanks to the SEO-friendly and often-searched titles like "What is Diabetes?" and "Is Diabetes Curable?" Shepler said.
"In unbranded campaigns, education can be a catalyst," Shepler said. "It doesn't have to always be about brands, you have to think about the patients unmet needs, and if there are gaps you have to think about it. Sometimes you have be a little brave and you have to step out of your comfort zone."
Scroll down to see the next article