August 30, 2017
Novartis' CAR-T therapy, now approved, faces questions about price and side effects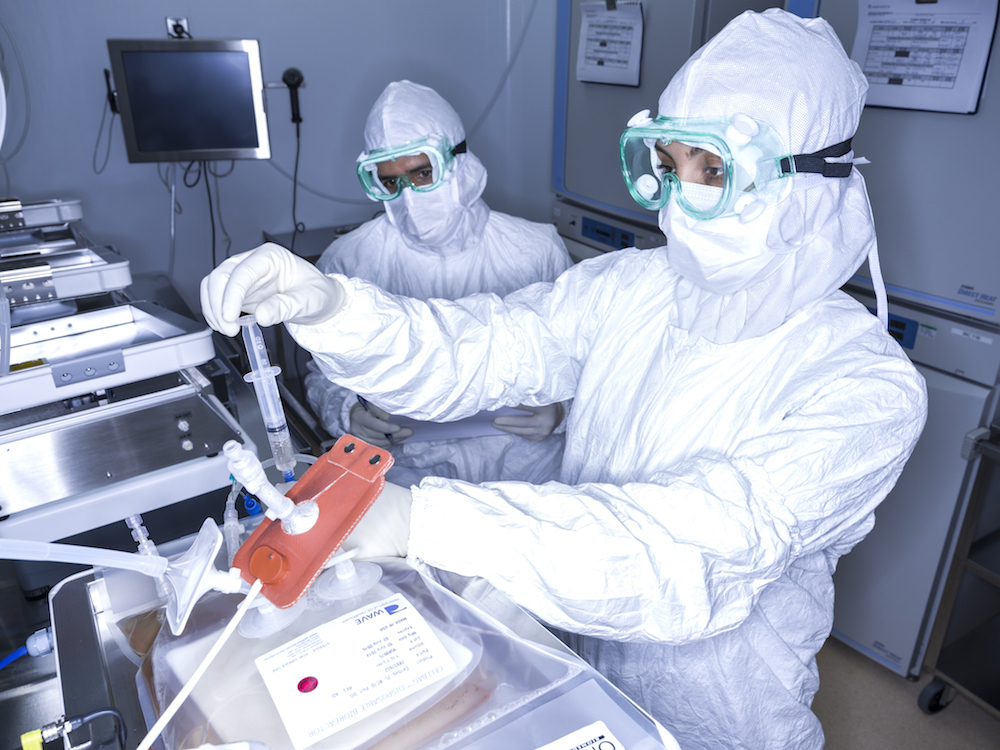 Photo Credit: Brent Stirton for Novartis/Verbatim Agency
The FDA on Wednesday approved Novartis' Kymriah, the first in a new generation of promising cancer treatments known as CAR-T therapies.
The treatment, which harnesses the patient's own immune cells to fight their cancer, will cost $475,000, according to multiple news reports, and will be used to treat patients younger than 25 years old who have been diagnosed with a certain kind of acute lymphoblastic leukemia (ALL).
Maria Whitman, managing principal at ZS Associates, said that receiving the first approval in a new class of treatments like CAR-T can be a double-edged sword. "First movers face all the hurdles in the system," she said but noted that Novartis will also have the advantage of creating positive initial relationships with medical centers administering the drug.
See also: Novartis considers new sales model for experimental cancer therapy
Still, Kymriah will face a number of commercial challenges as the process to utilize CAR-T therapies is complicated. It requires a patient's T-cells to be shipped to a manufacturing facility, where they are genetically modified and then shipped back to the patient and re-infused into their bloodstream.
This has prompted drugmakers developing CAR-T therapies to consider a range of marketing and commercialization models.
Novartis has said in the past that it plans to use a medical device-like sales model to market its CAR-T therapy, with the company's account managers acting like resources to physicians by providing peer-to-peer training, as opposed to standard sales rep detailing efforts, according to a 2016 interview with Usman Azam, Novartis' then global head of cell and gene therapies. Azam is now president and CEO of Tmunity Therapeutics.
See also: Kite Pharma, developing a CAR-T therapy, hires new comms lead
And last year Shawn Tomasello, Kite Pharma's chief commercial officer, said Kite's experimental drug, KTE-C19, if approved, would have a controlled launch and the company would slowly enlist hospitals and cancer centers as a quality control measure.
"Anytime you're getting ready to do something new and transformational you want the experience in the beginning to be positive," she explained at the time. "This goes past KTE-C19. There's going to be a learning curve and you want it to be a positive learning curve."
The Kymriah approval was announced two days after Gilead Sciences said it planned to acquire Kite Pharma for $11.9 billion. Kite is one of a handful of drugmakers including Juno Therapeutics and Bluebird Bio that are developing CAR-T therapies.
See also: Kite Pharma to keep anticipated CAR-T launch 'controlled' and targeted at certain hospitals
The Novartis therapy showed an overall remission rate of 83% in a Phase-II trial of patients with ALL who had received three months of treatment. But despite the promise of the therapy's clinical benefits, there are also concerns about the price and potential side effects.
Dr. Francis Collins, director of the National Institutes of Health, wrote in a blog post that there are "many questions that must be addressed before we herald immunotherapeutic approaches to cancer an unqualified success," namely severe reactions to the therapy and also its "very high price tag."
The Swiss-based drugmaker also announced plans to collaborate with the Centers for Medicare and Medicaid Services to develop an outcomes-based pricing approach for Kymriah.
See also: As immuno-oncology therapies evolve, so will the marketing
As part of that approach, Novartis will only receive payment under the deal if a patient has "demonstrated a clinical response at the end of a month," Bernstein Research analyst Tim Anderson wrote in an investor note.
CMS administrator Seema Varma said in a statement that "innovations like this reinforce our belief that healthcare payment systems need to be modernized in order to ensure access to new high-cost therapies."
Regardless of Novartis' intention to take on risk-sharing deals, there remain questions about the price of treatment. A spokesperson for the Campaign for Sustainable Rx Pricing said in an email that "Novartis' pricing decision disappointingly pushes an unsustainable trend even closer to the breaking point."
Outside of pricing, there are also concerns about severe reactions to CAR-T therapies, particularly cytokine release syndrome (CRS), a potential life-threatening complication that is the result of an overactive immune system. To that end, the FDA on Wednesday expanded the approval of Roche's Actemra which can resolve the effects of CRS.
Scroll down to see the next article