November 02, 2016
With more marketing spend behind it, Eliquis gains on market leader Xarelto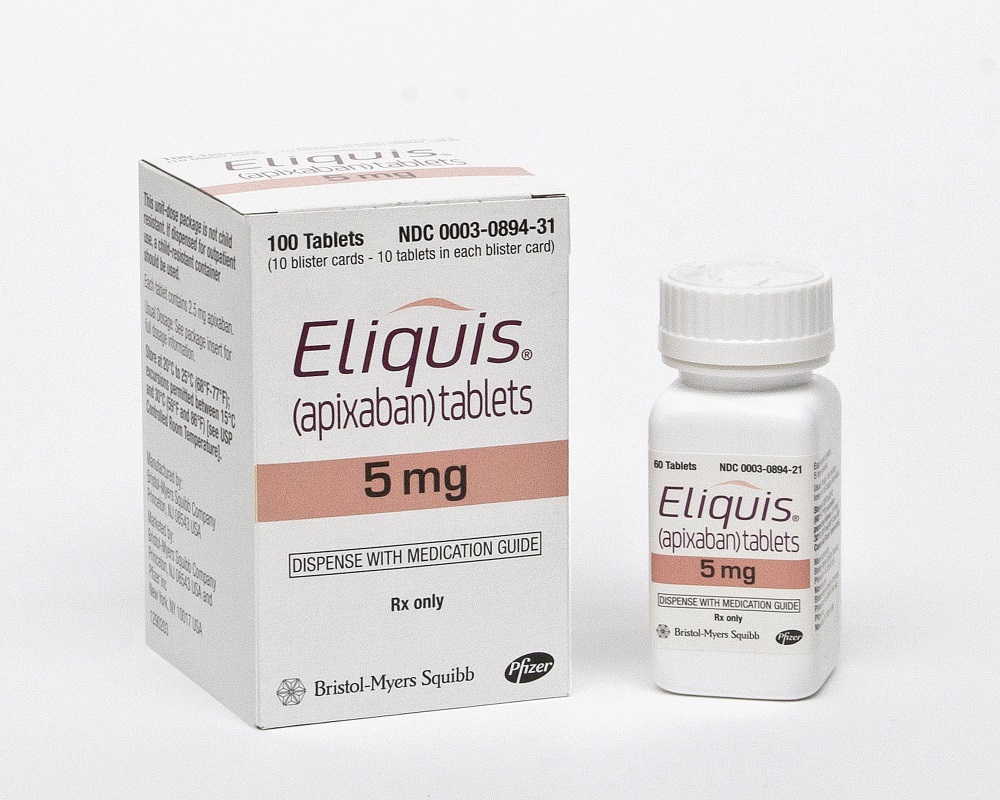 Johnson & Johnson's novel oral anticoagulant Xarelto, the current market leader in the category, may not hold pole position these among blood thinners for much longer, according to new prescription data.
Eliquis, marketed by Bristol-Myers Squibb and Pfizer, has gained significant ground on Xarelto since the beginning of 2015. Eliquis brought in roughly 240,000 prescriptions in January of last year, while Xarelto saw over 600,00 in the same month. In September of this year, Eliquis brought in 667,000, compared with Xarelto's 711,000, according to QuintilesIMS.
This shouldn't come as a surprise. BMS and Pfizer outspent Johnson & Johnson in advertising dollars for Xarelto during the past year and a half. This along with negative buzz around potential safety issues with the J&J blood thinner, may have helped contribute to Eliquis' growth.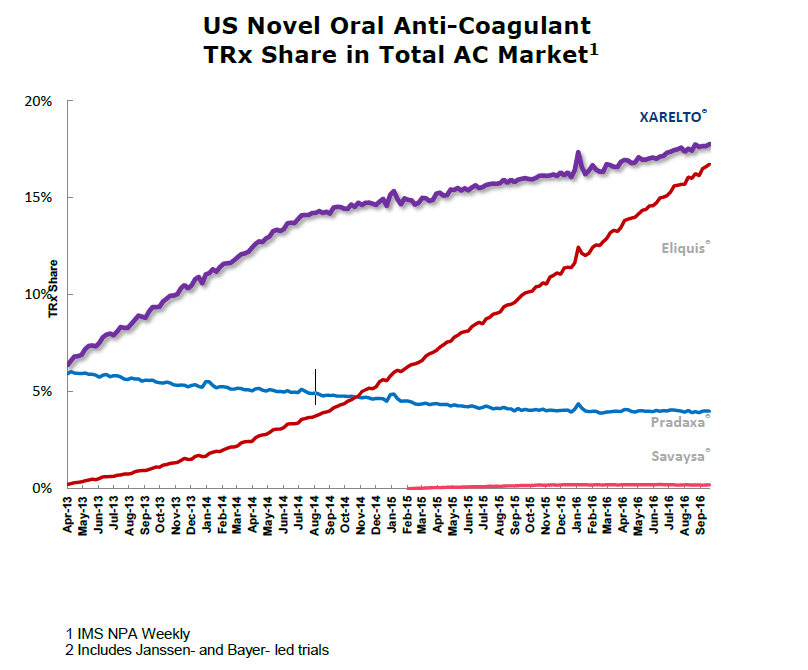 Xarelto currently holds 17.5% market share among oral anticoagulants, according to QuintilesIMS data shared by J&J in the company's most recent earnings presentation. That same graph shows Eliquis quickly catching up, however.
Dr. Amit Dhawan, a medical director for Kantar Health, attributes Eliquis' sharp rise to three factors: BMS and Pfizer have been positioning Eliquis as a safer alternative to Xarelto, the two drugmakers have greatly expanded their DTC marketing, and Pfizer has strong relationships with cardiologists owing to its legacy blockbuster Lipitor. BMS also has a heritage in cardiology with its two older blood thinners, Plavix and Coumadin.
See also: Eliquis aims to amp up its sales push
During BMS' own third-quarter investor call last week, CEO Giovanni Caforio said Eliquis is the leader in new-to-brand prescriptions among oral anticoagulants, meaning that patients are more likely to start taking Eliquis rather than a competing product, like Xarelto or Boehringer Ingelheim's Pradaxa. He also noted that the drug has put significant distance between itself and Xarelto in new-to-brand market share when treating atrial fibrillation and venous thromboembolism.
BMS and Pfizer's marketing spend for the drug has risen in lockstep with Eliquis' market share. The two companies spent $249 million on advertising in 2015, compared to the $106 million that J&J spent on Xarelto during the same period, according to Kantar Media. From January to June of this year, BMS again outspent J&J, this time by $91 million: $140 million on Eliquis, versus $48 million on Xarelto.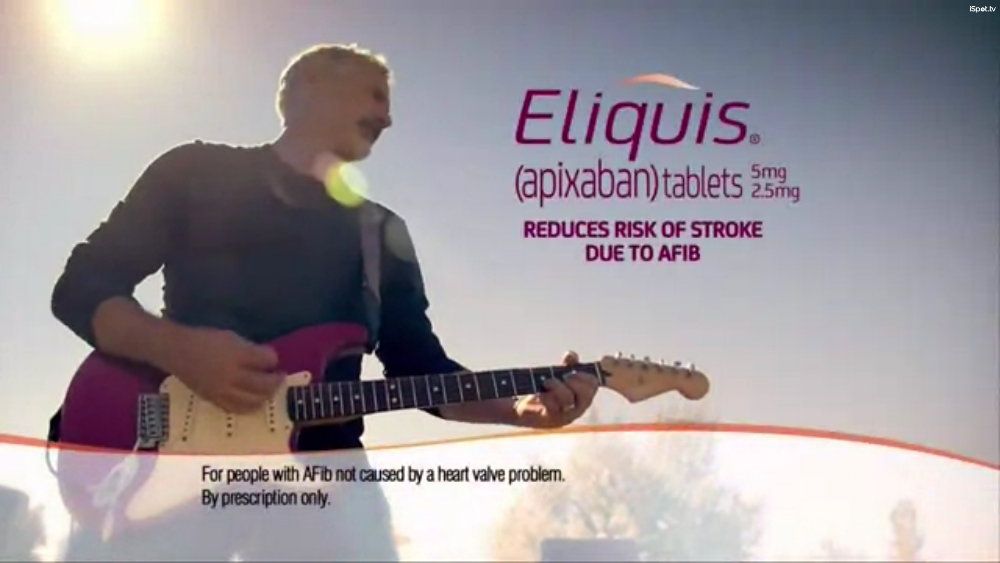 A recent Eliquis DTC advertisment used a middle-aged guitarist to tell viewers that even though he's not young anymore, he uses Eliquis to keep playing his best and reduce his risk of stroke from atrial fibrillation.
The difference in ad spending may well have translated into higher sales: Eliquis brought in $512 million in U.S. sales in the third quarter of 2016, compared to $245 million in the same period a year ago. Xarelto's U.S. sales also grew in the third quarter this year, up nearly 15% to $529 million, compared to $461 million in the same period a year ago. Warfarin, an older drug that both Xarelto and Eliquis are meant to supplant, holds 55% of market share in this category — but that's down from 62% this time last year.
See also: Eliquis enters the DVT business
Dhawan sees that trend continuing, "There's going to be more conversion from warfarin and more real-world data on these drugs, and all three of them will grow," he explained, adding that he believes Xarelto will remain the market leader due to its six indications and 10 ongoing trials for additional uses.
The recent growth of Eliquis upends traditional views among pharma marketers — namely, that arriving to market later than competition and with a more frequent dosing schedule usually means more challenges in growing market share. The drug was approved a year later than Xarelto and it's dosed twice a day, compared to Xarelto's once-daily dosing.
See also: Eliquis stacks up better than Pradaxa or Xarelto
But there have been questions about the safety of Xarelto. The drug's Rocket AF trial, which was used to support the drug's approval in 2011, came under scrutiny in 2015. Research published in the British Medical Journal found that the trial's integrity may have been compromised by a defective device used to monitor warfarin usage. The FDA reaffirmed the drug's efficacy and safety earlier this month and said it would not update the drug's label.
Still, a retrospective analysis published in JAMA Internal Medicine on October 3 could increase Eliquis' traction going forward. Investigators looked at roughly 120,000 patients aged 65 years old and older who are enrolled in Medicare. They found that Xarelto was associated with a statistically significant increase in bleeding both inside and outside the skull as well as in the stomach compared to patients taking Pradaxa.
Scroll down to see the next article