August 24, 2015
Five things for pharma marketers to know: Monday, August 24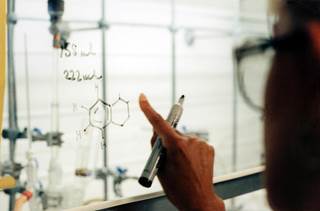 AstraZeneca inked a deal with Peregrine to study two immuno-oncology treatments in Phase-I trials. AstraZeneca's durvalumab will be combined with Peregrine's bavituximab and tested in multiple solid tumors. Bavituximab is currently being evaluated in a Phase-III trial for patients with non-small cell lung cancer.
The British drugmaker also named Sean Bohen as its new chief medical officer, a move meant to help accelerate the development of immuno-oncology treatments like durvalumab, according to Reuters. Bohen hails from Genentech and will report to AstraZeneca CEO Pascal Soriot.
Common heart drugs known as beta-blockers have been linked to an increase in survival for women with ovarian cancer, according to a new study conducted by University of Texas MD Anderson Cancer Center researchers and published in the journal Cancer. After analyzing a database of 1,425 women with ovarian cancer, they found that patients taking a certain type of beta-blocker lived more than four years longer on average than those who hadn't been prescribed the drug, according to The Wall Street Journal.
BioMarin will sell its Phase-III cancer drug, talazoparib, to Medivation in a deal worth up for $570 million. Talazoparib is currently being investigated in advanced and metastatic breast cancer in patients with BRCA 1 or BRCA 2 mutations. Medivation will pay $410 million up front, with $160 million available in regulatory and sales milestones.
A study conducted by the FDA's Office of Prescription Drug Promotion concluded that corrective advertising for misleading DTC ads is ineffective. The researchers said "that a corrective ad counteracted viewer belief of an overstatement of efficacy claim, but was less successful in counteracting omission of risk." The agency asked 1,057 participants to look at a fictional prescription drug ad for an asthma medication and then a corresponding corrective ad.
Scroll down to see the next article