September 27, 2012
Field the Force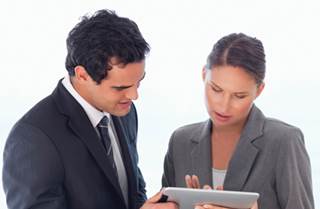 Like most of its industry brethren, Daiichi Sankyo (DSI) took a bite of the Apple two years ago and armed its sales force—US and global—with the iPad. Since taking this step, the company's marketing research tells it that reps are having lengthier conversations about drugs like Benicar HCT and Welchol.
According to Greg Barrett, VP of sales and marketing, before the iPad, reps were getting 30 seconds to a minute to present their CVA. Now doctors are engaged for three to five minutes. Why?
Besides the fact that iPads are attention getting and just plain cool, Barrett credits their interactivity and the fact that their gesture-driven surface allows reps to more effectively build the brand story. "Take your basic graph—it is static. On an iPad, you can slowly reveal different parts of it, to build the story around the data." DSI's internal sales force canvassing supports his contentions: reps report lengthier, more substantive conversations. Physicians' DSI surveys concur: rather than being a passive listener, doctors can reach out and touch the iPad screen, interact with it, and become active participants in the conversation. Instead of being face-to-face, they are now shoulder-to-shoulder with reps. "They want to reach out and grab it, play with it. We are building applications that encourage them to do that," says Barrett.
Like DSI, most top pharma companies are arming reps with iPads. The iPad has taken the industry by storm, not to mention the broader medical landscape. According to Tim Lewis, director, interactive and RM strategy at AbelsonTaylor, at least 15 of the top 20 drug companies equip reps with iPads with second and third tier companies close behind. IT consultant Gartner Research Group expects iPad penetration of the pharmaceutical salesforce of 85% by 2013.
Barrett's findings are echoed in what the advertising industry's top interactive marketing experts advise their clients. GSW's digital strategy director Phil Storer describes the concept of "enhanced engagement," the phenomenon of physicians wanting to take the tablet from the rep and operate it themselves. This phenomenon occurs because many physicians own iPads, and increasingly are utilizing them on the job. As a result, GSW's team builds content with this in mind, essentially permitting the physician to customize their own detail on the spot: "Based on the feedback of what the MD would enter into the device, the physician would build dynamically based on the kind of content they wanted to receive."
Electronic detailing or "e-detailing" is not new: before the iPads, reps had laptops. The iPad has taken e-detailing to a whole different level. According to Storer, "Laptop PCs were big and slow and as a result, interfered with the conversation. The iPad is lightweight and starts quickly. That minor innovation is what allows the interactive visual aid to be more effective—it's the tablet PC we were hoping for."
The iPad is also what the physician ordered. Manhattan Research's recent Taking the Pulse® survey of 3,015 US physicians shows that nearly two-thirds (62%) of them own a tablet in 2012, up from a third (35%) in 2011. Among tablet-owning physicians, more than 8 in 10 own the iPad, and one half of them have used their device at the point-of-care. Importantly, Manhattan's survey reveals that younger physicians prefer iPad driven sales visits, and that physician satisfaction skyrockets when they have the opportunity to actually operate the device themselves.
Another factor that has made DSI's effort a success: their app developers rely on reps for input into a continuous improvement process. Barrett points out: "We said: we recognize this is a work in progress. We are looking [for] reps, to punch holes in this." One initial pitfall of the iPad detail developed by DSI was the need to quickly segue between products while in front of a physician. This snag was solved by a bridging function that lets a rep interrupt, for example, a discussion of Benicar, transition to Welchol, and then seamlessly resume the Benicar conversation. "We are constantly asking the field: how can we make this better? They are a part of the process."
What Barrett has found parallels several principles offered by AbelsonTaylor's Lewis. AbelsonTaylor pioneered the development of an iPad sales platform, having created a detailing app weeks after the release of the original iPad and having developed "eVE," an e-detailing platform. Lewis and his colleagues work to help clients realize that this device will change nearly every part of the call, citing several abiding principles of optimizing this technology:
• Allow the rep to be agile: let them control what content they think should be shown from an approved arsenal of content;
• Real time feedback: Give the rep guidance based upon the prior call in preparation for the next call;
• Mirror the physician's experience: The user experience a physician has on the iPad should reflect the MD's personal information consumption; further, let the MD "drive" certain portions of the detail
• Assiduous preparation: Train reps not only how to use the iPad in a selling situation, but how to encourage HCP-handling of the iPad during a detail to increase satisfaction while keeping control of the call
So are doctors simply getting an electronic version of the CVA? To some extent, yes, but in other ways they get much more. Barrett committed his team to exploiting the full functionality. Besides dynamic graphical content, they have embedded video of a key thought leader opining on the usage of a particular product; utilizing the device for sample signature capture; and, when requested by the physician, creating an immediate video link with a medical science liaison or allowing the physician to browse upcoming speaker programs. Another function that addresses a common physician questions—is your drug on formulary?— is addressed by a app called "Fingertip Formulary," which encompasses 1,800 plans.
Besides marketing directors, iPads have marketing researchers excited too. According to industry guru Dr. Richard Vanderveer, a vital asset of the iPad is the ability to leverage psychological segmentation data in real time, allowing an "i-rep" to transmit a custom tailored product message on the spot. Dr. Vanderveer notes, "We can customize the iPad presentation based on each physician's reactions to previous presentations. For example, a doctor who has expressed a willingness to try your product can receive a subsequent presentation designed to help to engineer successful trial, while a doctor who has encountered side effects with your drug might receive a problem-solver presentation on the next visit. The database resulting from such sequential customization is extremely useful not only in approaching individual physicians, but also in understanding market dynamics and segments."
On the regulatory front, companies should know that they are subject to the same rules as they would be to paper format CVA's. Former FDA Associate Commissioner and APCO Healthcare President Wayne Pines commented: "Companies must be sure that the iPad app meets all regulatory requirements and that any presentations that are shown to HCPs on the iPad also include appropriate balancing information and access to full prescribing information. From a regulatory standpoint, the iPad should be regarded generally as if it is a print medium."
While the iPad is a game-changer for reps, AT's Lewis comes back to the fundamentals of a good detail. "It's what we've always been pursuing: a relevant story for each customer, an engaging way of sharing that story, and a platform that allows the rep to bring it to life. With the right platform, the iPad gives the rep an arsenal of information at her fingertips, and the agility to collaboratively connect that information with the customer in real time."
Selling tablets with tablets
65% of ePharma* physicians have seen an iPad rep in 2012 vs. just 30% the previous year†

35% of ePharma* physicians say they are more likely to request a sample as a result of seeing an iPad rep†

29% of ePharma* physicians say they are more likely to consider prescribing a particular drug as a result of seeing an iPad rep†

62% of physicians own a tablet device, up from just 30% in 2011‡

50% of physicians specifically use an iPad for professional purposes‡

37% of ePharma* physicians use a tablet device to access online professional journals, vs. 81% using a desktop or laptop and 34% using a smartphone/PDA†

23% of those ePharma* physicians interested in using online promotional programs are specifically interested in using mobile apps from pharma†

*ePharma Physicians are physicians using digital channels to look for prescribing drug information
†Source: Manhattan Research, ePharma Physician 2012
‡ Source: Manhattan Research, Taking the Pulse 2012



Scroll down to see the next article