October 01, 2012
For oncologists, just a few clicks to 'organized wisdom'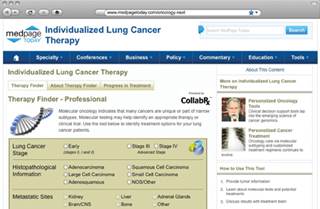 A NEW tool on MedPage­Today.com promises to streamline the research process for physicians. Called the Oncology Next Tool, it can deliver patient-focused information just by inputting information with a few clicks.
Free access is being sponsored on MedPageToday.com by Boehringer Ingelheim, which has two lung cancer drugs in its pipeline but none on the market. A semi-exclusive license makes MedPage the only one of the big medical portals to host it.
Anthony Manson, MedPage VP of strategic partnerships, said the tool, which was built by CollabRx, amounts to "organized wisdom" that will make it easier for physicians to hone in on treatments.
The interface is simple: physicians check off boxes such as cancer stage, metastases locations and screened biomarkers. The results include possible drug therapies, clinical trial information and the status of appropriate pipeline drugs.
Manson said the tool's information will grow as researchers identify more genetic flags that signal a particular cancer's characteristics.
As streamlined as the results look, CollabRx,'s chief scientist Smruti Vidwans told MM&M that the simple user experience belies "a complicated interplay between our internal science team and IT department."
The site is promoting the tool using email alerts and search engine optimization, along with traffic drivers within the site. MedPage will be promoting the tool during the fall and spring conference season.
Scroll down to see the next article